Posted by Amy Wellcoat / Ruffwear on Jul 09, 2021
Hiking with your dog can be the perfect outdoor activity, but there is plenty to consider before heading out on the trail. We are here to help make sure you're prepared for all weathers, unintended detours and pesky bugs!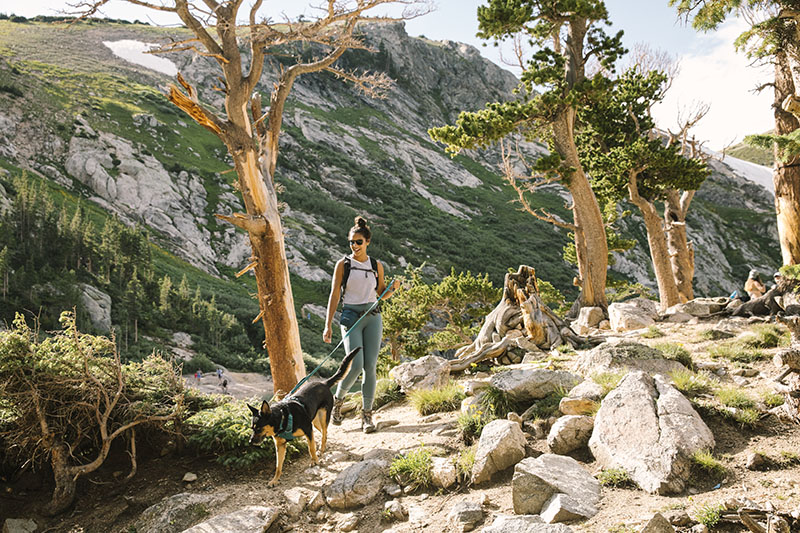 Build up gradually
When introducing your dog to any activity it's best to build up their endurance. Start slowly, especially when introducing rough and steep terrain, and allow plenty of time for rest stops. Start off by doing shorter, less intense hikes and gradually build up over the course of a couple weeks to build up stamina and work those muscles.
Be patient with young pups & small dogs
If you have a young pup it's best to wait until they are over 6 months so you can be sure their bones and muscles are fully developed. If your pooch is a small breed, remember they only have little legs so get tired quicker and tend not to be able to walk as far as bigger dogs. They don't need to miss out though, shorter walks are still great fun - or you could invest in a dog carrier backpack for yourself so they can still enjoy the views!
Consider terrain & weather
Even if your dog is used to long hikes a change in the weather can make it harder, and even dangerous in very hot or very cold conditions. When hiking you might find it's significantly colder at the top of the hills and maybe even pretty windy too, if it's anything like Scottish hills, it's probably sunny at the bottom, and rainy everywhere else! It might be a good idea to pack a jacket or scarf for your pooch. If the weather is hot or humid, you should definitely consider taking a cooling coat to regulate your dogs temperature which will make them more comfortable and cool. When you get back home or to the car, it might be an idea to have some towels handy or a dog drying coat to dry off your pooch after their rainy walk or adventures in the mountain streams.
Check the rules
Some routes will require your dog to be on the lead at all times, others may have seasonal rules to protect livestock and wildlife such as ground nesting birds. Remember to close any gates behind you so the cows and sheep can stay safely in their fields.
Reinforce training
If you are planning to let your dog explore off leash you should make sure they respond to key commands, especially when it comes to recall. The excitement of the outdoors can mean a little refresher course is needed and your shorter practice hikes are the perfect place to check. Make sure to take your dog whistle and plenty of training treats as a delicious reward! You can even use a handy little pouch like the Home Trail Hip Pack to keep all your treats, mobile phone and little accessories to hand.
Protect paws
If your dog is more used to smooth pavements than rocky trails it can take time to toughen up their paw pads. Dog boots, like the Ruffwear Grip Trex, are a great option to protect paws from rough terrain and extremes of temperatures. Paw balms are also great to use before and after walking to moisten up dry or cracked paws.
Stay in control
Your dog should always be within eye- and ear-shot. If the trail requires leashes ,or if there is any risk that they might run into or jump up onto other hikers, keep your dog on a short leash. Hiking trails tend to be much busier in the summer, if your dog gets uncomfortable in busy places, it's maybe a good idea to check which days and times will be quieter and more enjoyable for your pup. If you prefer a little extra bungee to your leash so they can roam a little further, the Ruffwear Roamer Leash will be ideal for you.
Leave no trace
Bring pick up bags to collect and carry your dog's poop, and always take any litter home with you so we can keep our landscapes as natural and clean as when we found them.
Check for pests
Unfortunately exploring the outdoors is prime territory for picking up pests such as ticks and fleas, so make sure your dog's treatments are up to date and give them a thorough check over when you get home. It's a good idea to use some tick spray before and after, and have a tick remover to hand just in case.
Recovery
We know how much our dogs love to walk, roam and run, they really could go on for miles! But after a long day of hiking we need to let them recover when they get home by having a couple days of rest to recover, just like ourselves. A body massage will be a welcomed comfort to help soothe their muscles and joints, a qualified veterinary physiotherapist will be able to teach you the right techniques.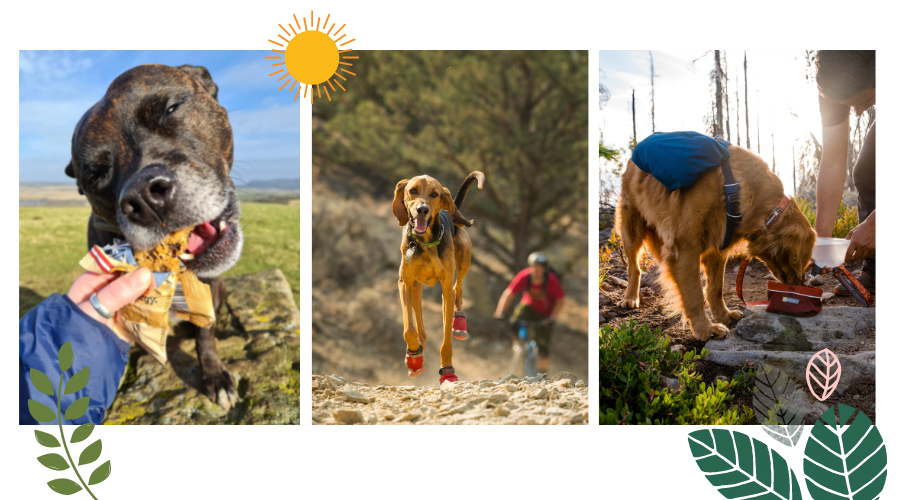 What to carry
As well as things like dog jackets and tick spray mentioned above, here's a list of things you should bring along that will easily fit into your rucksack and pockets:
You'll need to take some of your dogs food and some extra treats and snacks to keep them going.
Pack plenty of water, having too much is better than not enough, especially if you find yourselves wandering along a different path than intended! A travel doggy water bottle or collapsible water or food bowl (so you don't have to share!) are a must.
Remember those poop bags (and pop the poop in a bin where it belongs)
Dog boots & liners are a great little extra item to bring along, especially for uneven terrain or a sudden change of temperature, those little paws will thank you later.
A little first aid kit to pop in your pocket or dog pack - just in case.
A leash to keep your dog close, great for when it gets busy or if you are unsure of your surroundings.
A dog pack is a great idea, allowing your dog to comfortably carry some of their own bits and bobs!
When it gets darker at sunset, a safety light like The Beacon will come in handy to light the way home.
Amongst your own accessories, water and food, make sure to keep your phone charged or bring a handy battery pack so you can keep track of your whereabouts and have access to your contacts just in case you both need a helping hand!
We hope this helps you in deciding what to do, where to go and what to take with you on your summer hiking trips with your furry friend!