Posted by K9 Active on Aug 01, 2023
As a dog lover and outdoor enthusiast, ensuring the safety of your furry friend is paramount, especially when it comes to water activities. This comprehensive guide will help you navigate the process of choosing the perfect life jacket for your dog, ensuring they stay safe and comfortable while enjoying the great outdoors.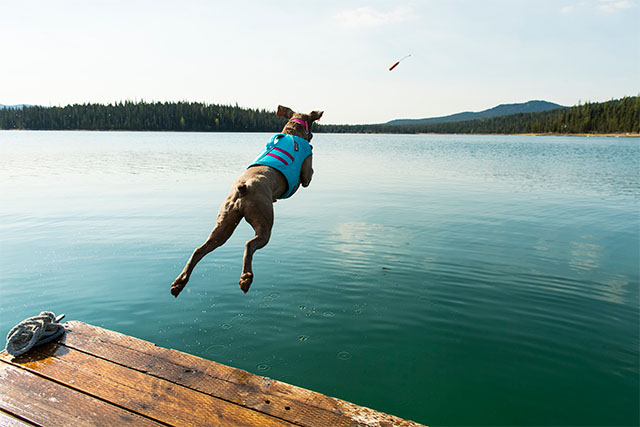 Why Does Your Dog Need a Life Jacket?
Even if your dog is a strong swimmer, a life jacket is an essential piece of safety gear. Dogs can get tired, struggle to stay buoyant, and have trouble keeping their heads above water. Certain breeds, like Bulldogs, may require help staying afloat due to their body types. A life jacket provides both buoyancy and visibility, making it easier to spot your dog in the water.
Key Factors to Consider
When choosing a life jacket for your dog, consider the following factors:
Size and Fit: A life vest should fit your dog with precision. It shouldn't be too loose or snug. To choose the right size, weigh your dog and measure their length and girth. Consult the manufacturer's size chart and choose the appropriate range, sizing up when unsure.
Buoyancy: The life jacket should have enough buoyancy to keep your dog afloat. Look for jackets with extra flotation material, especially around the chest and neck.
Handle and Leash Attachment: A sturdy top handle makes it easier to grab hold of your dog and teach them to swim. A D-ring allows for leash attachment, providing maximum leash control.
Visibility: Bright colours or reflective strips increase the visibility of your dog, especially if you're swimming at dawn, dusk, or nighttime.
How to Measure Your Dog for a Life Jacket
To ensure the life jacket fits your dog perfectly, you'll need to take some measurements. Here's a step-by-step guide on how to measure your dog for a life jacket:
Weight: The first measurement you need is your dog's weight. This is important as life jackets are often categorised by weight ranges. You can use a home scale or take your dog to the vet for an accurate weight measurement.
Length: Measure the length of your dog from the base of the neck (where the collar would sit) to the base of the tail. This measurement helps determine the length of the life jacket needed to cover your dog's torso.
Girth (Chest): This is the measurement around the largest part of your dog's chest, usually right behind the front legs. Ensure the tape is snug but not tight. This measurement is crucial as it helps ensure the life jacket fits securely around your dog's body.
Neck: Measure around the thickest part of your dog's neck, where the collar usually sits. This measurement ensures the life jacket doesn't choke your dog or slip over their head.
Width: For broad-chested breeds, you might also need to measure the width of your dog's chest. Measure across your dog's chest, from one shoulder to the other, across the breastbone.
Here's how to take these measurements accurately:
Use a soft measuring tape. If you don't have one, use a string or a rope, mark it, and then measure it against a ruler.
Make sure your dog is standing in a natural position. Measurements taken while your dog is sitting or lying down may not be accurate.
Don't pull the measuring tape too tight. It should be snug, but you should be able to easily slip two fingers underneath.
Remember, each life jacket manufacturer may have slightly different sizing, so always refer to their specific sizing chart. If your dog's measurements fall between two sizes, it's usually best to size up for safety and comfort.
Once you've chosen a life jacket, test its fit by adjusting the straps and lifting your dog slightly off the ground using the jacket's handle. The jacket should stay in place and not twist or slide to one side.
Top Picks for Dog Life Jackets
Based on these factors and the products available on your website, here are some top-rated life jackets for dogs:
Ruffwear Float Coat Dog Life Jacket: This jacket is ideal for new swimmers and rougher waters, with dense foam panels and adjustable straps. It's designed to support dogs in various water activities and is a popular choice among dog owners for its durability and functionality.
Hurtta Lifesaver ECO: This eco-friendly life jacket is designed to keep your dog safe in the water. It's adjustable and snug, providing the best kind of safety for dogs in the water. The Hurtta Lifesaver ECO is not only a great safety device but also a conscious choice for the environment.
EzyDog X2 Boost Float Coat: This life jacket is great for big dogs, providing excellent buoyancy and high visibility. It's designed with an ergonomic grab handle and super-strong D-ring, allowing for easy rescue and restraint when needed.
Remember, the best life jacket for your dog is the one that fits them well and meets their specific needs. Always supervise your pet when swimming and ensure the life jacket fits snugly but comfortably.
FAQs
How do I choose a life jacket for my dog? Measure your dog's girth and refer to the sizing chart of the life jacket. Ensure it fits snugly but comfortably and provides enough buoyancy.
What is the difference between a dog life vest and life jacket? Life jackets provide both buoyancy and visibility, while life vests are lighter and better for casual swimming.
When choosing the right life jacket, what should you consider? Consider the size, buoyancy, handle and leash attachment, and visibility of the life jacket.
How tight should a life vest be on a dog? The life vest should fit snugly but comfortably. Your dog should be able to breathe easily.
In conclusion, choosing the perfect life jacket for your dog involves considering several factors, including size, buoyancy, handle and leash attachment, and visibility. With the right life jacket, your dog can safely enjoy all the fun that water activities have to offer.