Posted by Zena Conkey on Jul 07, 2021
When it comes to choosing a toy for your dog what do you look for? Something robust? Something that will keep your dog amused for hours? Something you can enjoy playing with together with your dog? The ChuckIt! range meets all these needs and more, with something for every dog they manufacture some of our favourite toys here at K9 Active.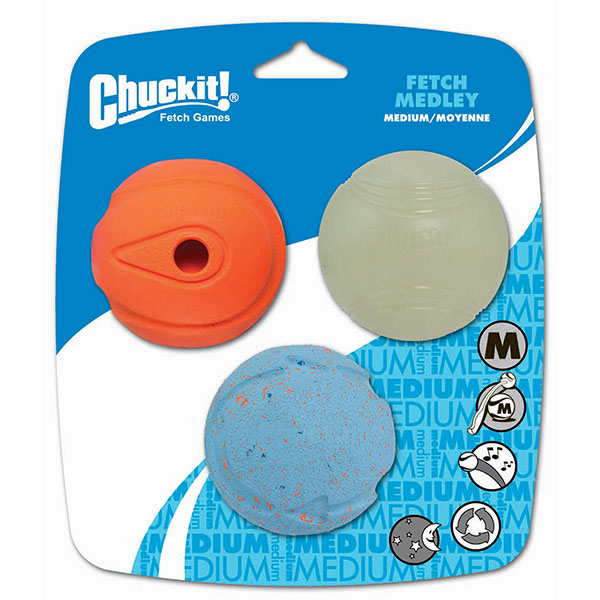 When we are heading out with my dogs or even just playing in the garden we love playing ball, but we also like to mix it up a little and the Fetch Medley by ChuckIt! is a firm favourite. The Fetch Medley pack is made up of a Whistler ball, a Max Glow ball and good old fashioned bouncy fetch ball. While chasing ball is good fun the whistler ball adds some extra sensory stimulation by producing a soft whistle as it flies through the air. This makes it really great for dogs who quickly lose sight of a ball as soon as it's thrown or who have a visual impairment. The Max Glow Ball is ideal for darker evening walks where dwindling light makes finding a ball a little on the tricky side. The Max Glow ball absorbs UV rays when left either under a lamp or in sunlight then once it starts to get dark the ball will start to glow – very handy if your dog decides that you are the one that has to find it in the field! Last but not least in the Fetch Medley pack is the sturdy, bouncy fetch ball which is designed to stand-up to repeated grabbing, chomping and mouthing.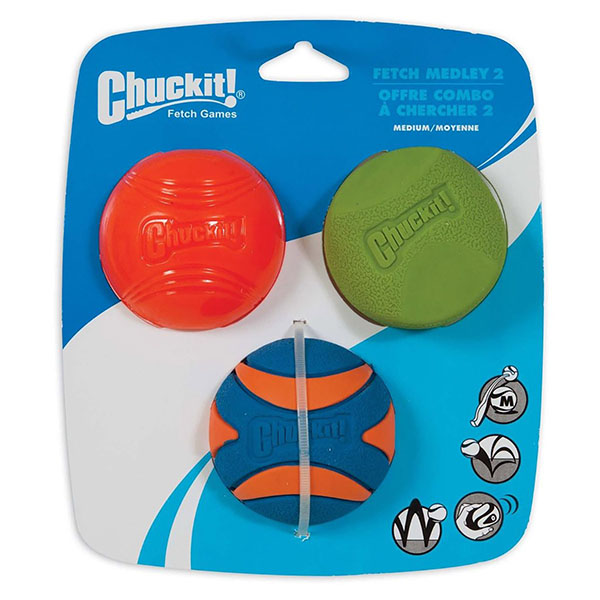 If you want to provide even more choice for your dog ChuckIt! now have the Fetch Medley 2.0 pack. The first ball in this fantastic pack of 3 is The ChuckIt! Erratic Ball, which bounces unpredictably on landing, making your dog guess which way it's going to go and then there is The ChuckIt! Ultra Squeaker Ball. This sturdy ball with a tough squeaker not only provides entertainment on dry land but also floats ideal for those dogs who love to fetch balls from water. Although the squeaker is a lot tougher than many on the market, it isn't indestructible so supervision is needed but it is our experience that our dogs still love their Ultra Squeaker ball long after it stops squeaking. The final ball in this Fetch Medley 2.0 pack is The ChuckIt! TPR Strato Ball, an incredibly tough and bouncy ball. The TPR Strato ball is only available in the Fetch Medley 2.0 pack and being buoyant lets your dog enjoy his or her game of fetch wherever they might be.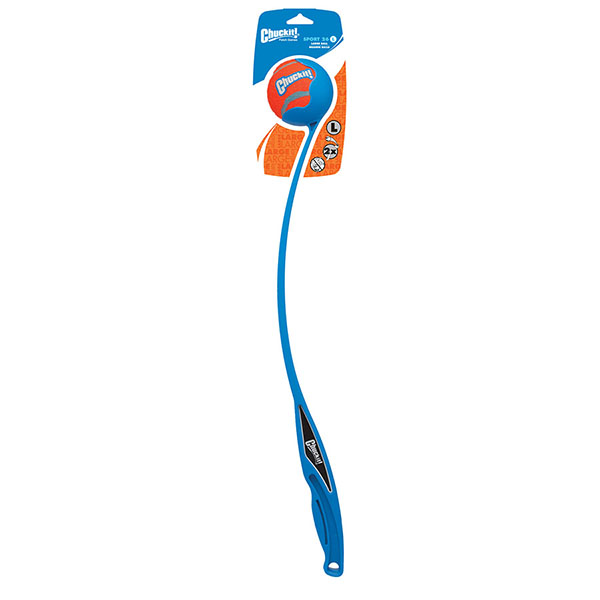 All of the balls in the Fetch Medley and Fetch Medley 2.0 packs are tennis ball sized and ideal to use with the ChuckIt! Pro launchers. The Sport 18 Medium Ball Launcher is easy to carry with a comfortable grip, allowing you to throw your dog's ball far further than most people could hope to manage. By launching the ball on average 3 to 4 times the distance of simply throwing a ball your dog gets the opportunity to have a real stretch while still playing with you. This one fits all medium sized Chuckit! Balls and we have the larger version too.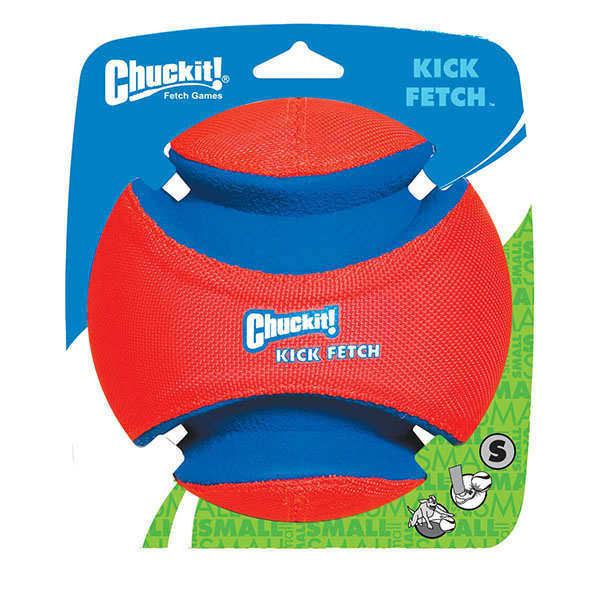 The ChuckIt! range also includes the soccer ball sized Kick Fetch ball for those dogs who enjoy a game of football with their family, great for a kick about in the garden or down the park. Available in a couple of different sizes to suit the size of your pooch.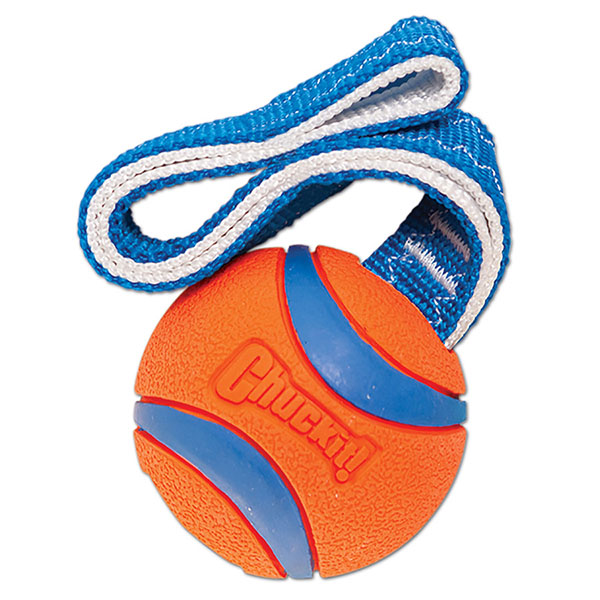 ChuckIt! haven't forgotten about those dogs who don't particularly like playing with balls and prefer a good game of tug. The Ultra Tug features a durable, rubber ball with a strong handle, great for being pulled, shaken and tugged while the Ultra Tug Duo is a combination of two balls and a tug, ideal for sharing with a furry friend!
As you would expect all of the toys in the ChuckIt! are made from durable, non-toxic materials and with so many fantastic toys to choose from the hardest decision will be which one to fetch first.