Posted by Ruffwear on Apr 19, 2023
Running with your canine co-pilot is sure to bring a whole new kind of runner's high. From watching your dog sprint from a sudden case of the zoomies to giving you an excited side-tongued smile, you'll be laughing too hard to notice those sore muscles. With the new Trail Runner™ Family, both you and your hound will be ready to go the extra mile.
Running with your dog doesn't have to feel like a marathon task. With the right kit and an attitude for fun, it's achievable. Whether you're a gentle jogger or more of an ultra-runner, here's some top tips to help dogs and humans put one paw in front of the other and find that forward momentum.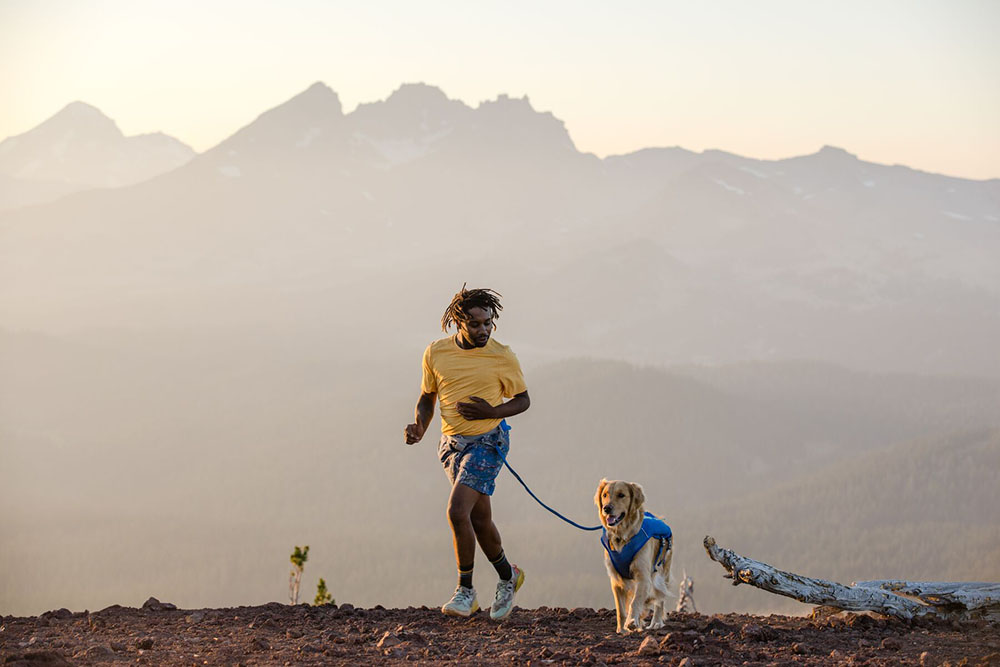 Why run?
Running has numerous benefits for your dog - help maintaining weight and improving mental sharpness, as well as reducing anxiety, stress, and depression. In addition to these obvious benefits, there is the added companionship and special bond that can develop when you and your dog do things together.
Take the right kit
Ruffwear's brand new trail running kit has an emphasis on minimal and lightweight designs that are key for fluid movement during high-output activities. Humans and dogs can find their stride together with an updated and expanded Trail Runner™ Family built with connection, hydration, and exploration in mind.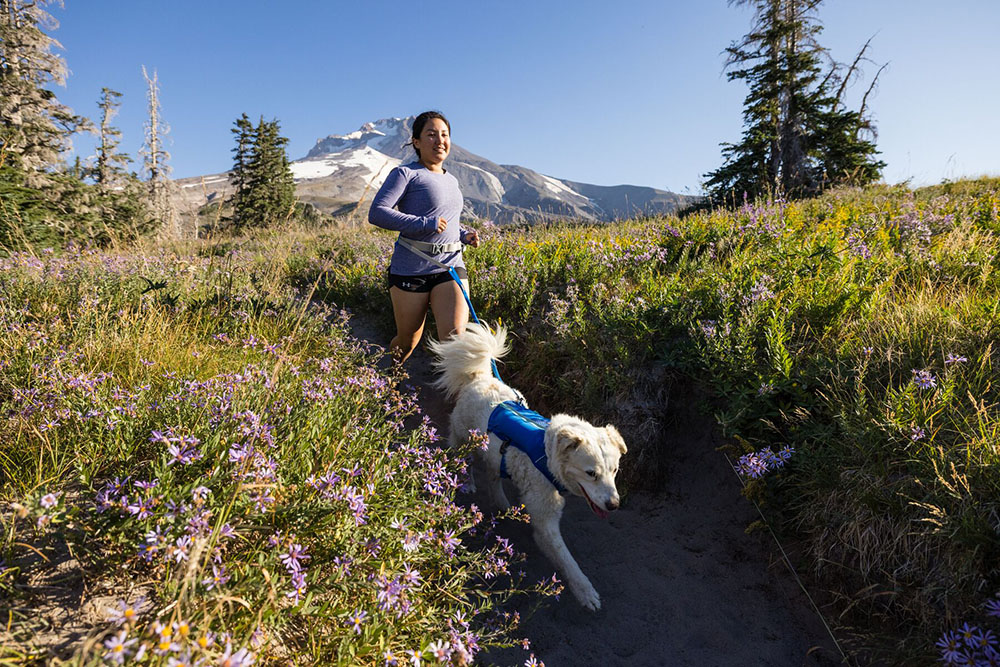 Always warm up
The most important thing you can do for yourself and your four-legged friend when getting ready to run is to warm up properly. Make sure to slowly warm up and stretch your dog. Take a brisk walk with your dog on a loose lead, let them sniff and do their needs, so that they learn the difference between walking and training. Slowly increase the speed to trotting and then a sprint at the end. Your dog also needs to stretch. Any activity that exaggerates a natural motion will work, such as chasing after a ball.
Prepare for the weather
Cold weather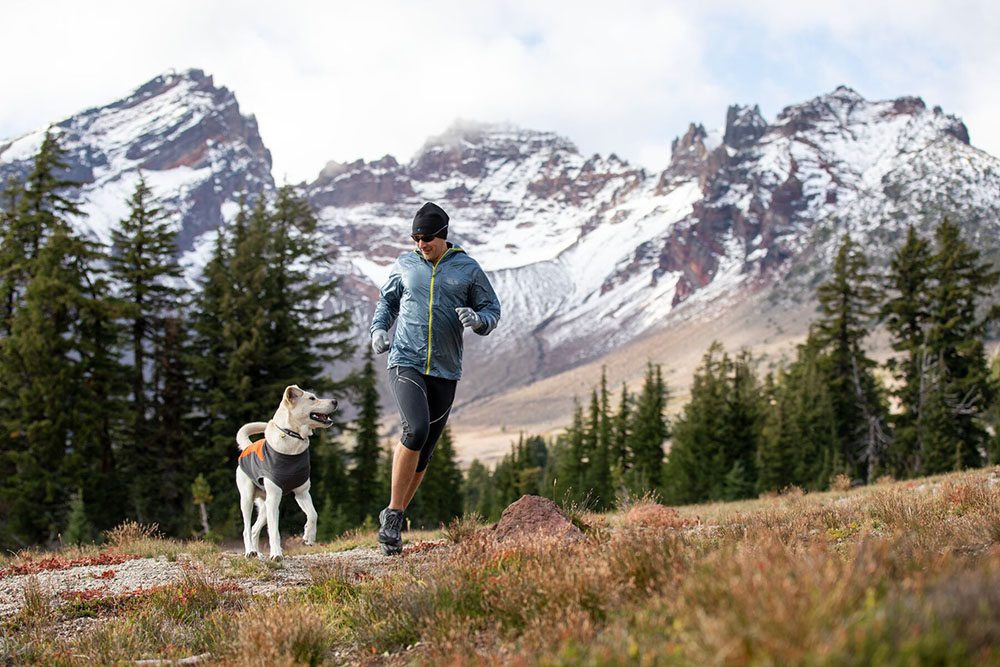 Temperatures in the winter can vary significantly. Generally, if it's too cold for you, it's too cold for your dog. Similarly, if you can endure the temperature, it's likely that your dog can too.
The risks of cold are substantial , frostbite, windburns, and exposure. Make sure to stick to well-known routes and have back-up plans. It's also important to prepare your dog with suitable gear. The Ruffwear Powder Hound™, Cloud Chaser™ and Quinzee™ Jackets will all keep your dog nice and warm on their adventure whilst the Vert™ and the Sun Shower™ Jackets are perfect for keeping your pup dry.
In the winter, good running surfaces may be more challenging to find. When running on the road, be aware of how much salt has been laid on the surface. Chemical deicers can be harmful to your dog's paws; make sure to wash your dog's paws thoroughly and consider purchasing a set of dog boots such as Ruffwear's Polar Trex™.
Warm weather
When temperatures reach 20+℃, please don't embark on strenuous activities with your dog.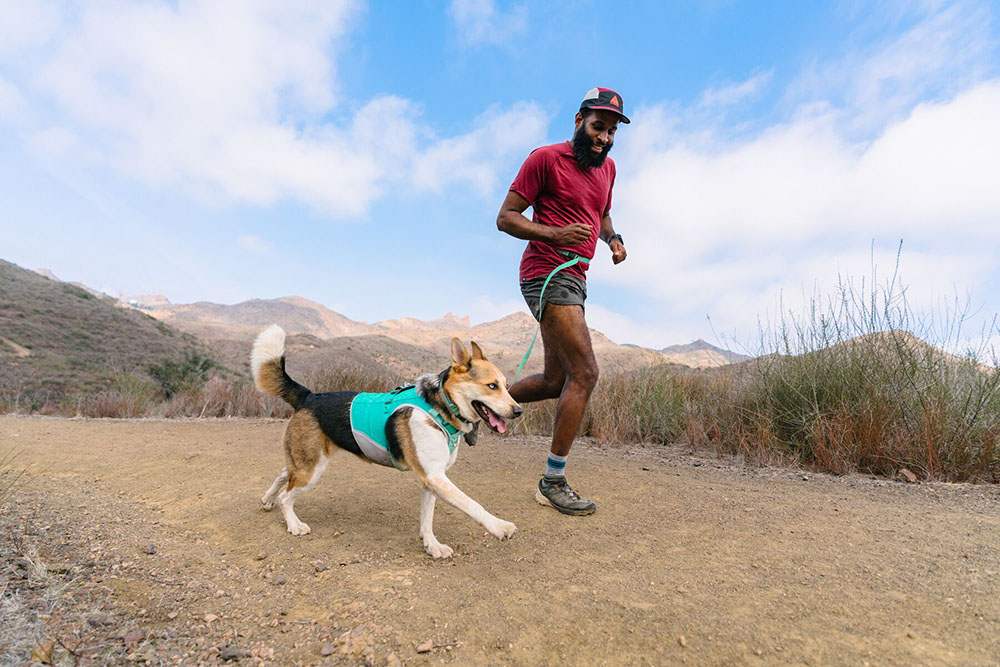 We know how important exercise is when keeping our dogs' body and mind healthy, but knowing how to exercise them safely on hot days while preventing overheating can be difficult. It's also important to note that temperature isn't the only factor, you must also take humidity into consideration.
Avoid the hottest part of the day, try to head out very early in the morning or later in the evening.
Pick well shaded areas ideally with natural water stops for the dogs to cool off or have a swim
Alternatively, pick places with a nice breeze such as the beach - but ensure you avoid the peak times of the day
Use some cooling apparel such as Ruffwear's Swamp Cooler™ Zip Vest for an evaporative cooling effect that disperses heat from the dog's core
Carry water - the Ruffwear Trail Runner™ Running Vest features two zippered pockets which holds two water flasks and a smaller pocket can fit the Trail Runner™ collapsible bowl
Ease back on distance and pace, taking plenty of breaks
Cut back on the volume of runs you do per week
Why not power walk instead of run? You can still enjoy some light exercise using the trail running equipment. But still do this during the coolest part of the day.
Know the signs of heat stroke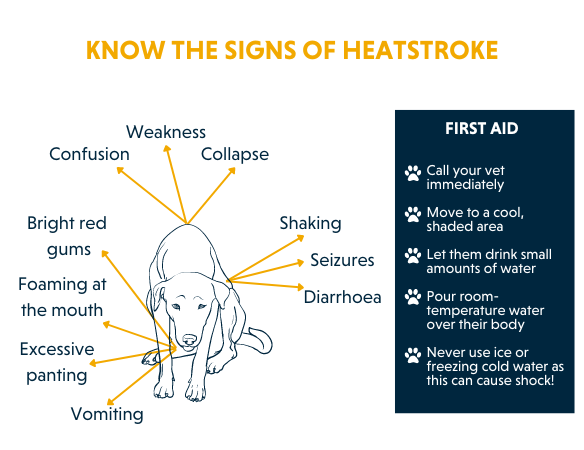 Training
Don't run before they can walk
You need to first make sure that your best furry companion has mastered loose-lead walking. A dog who pulls on lead is frustrating when walking, but at faster speeds it could result in some grazed knees, or worse. To ensure your dog stays near you, with the lead hanging in a J shape, you need to be just as rewarding as it may be for them to run off after squirrels and interesting smells. Use lots of treats, toys, and praise to reinforce your dog for keeping the lead slack. Even if you are comfortable with them off the lead, you need to be confident that you can still control them with good recall and trust them to stay close so you can keep an eye on them.
Try practicing basic manners at home. Useful commands are:
"Sit"
"Leave it"
"Come"
When you start running together, ensure to keep your dog on one side of you. If they run in front of you or weave from side to side, your legs may tangle in the lead and trip you up. It doesn't matter if you choose your left or ride side, but pick one and stick with it. Start training at a walking pace, and keep reinforcing good behaviour. Always give your dog their treats in the position you want to reinforce, so if you want them on your left side, only offer treats on your left side. Once they've perfected one side, you can train on the other side with a different cue.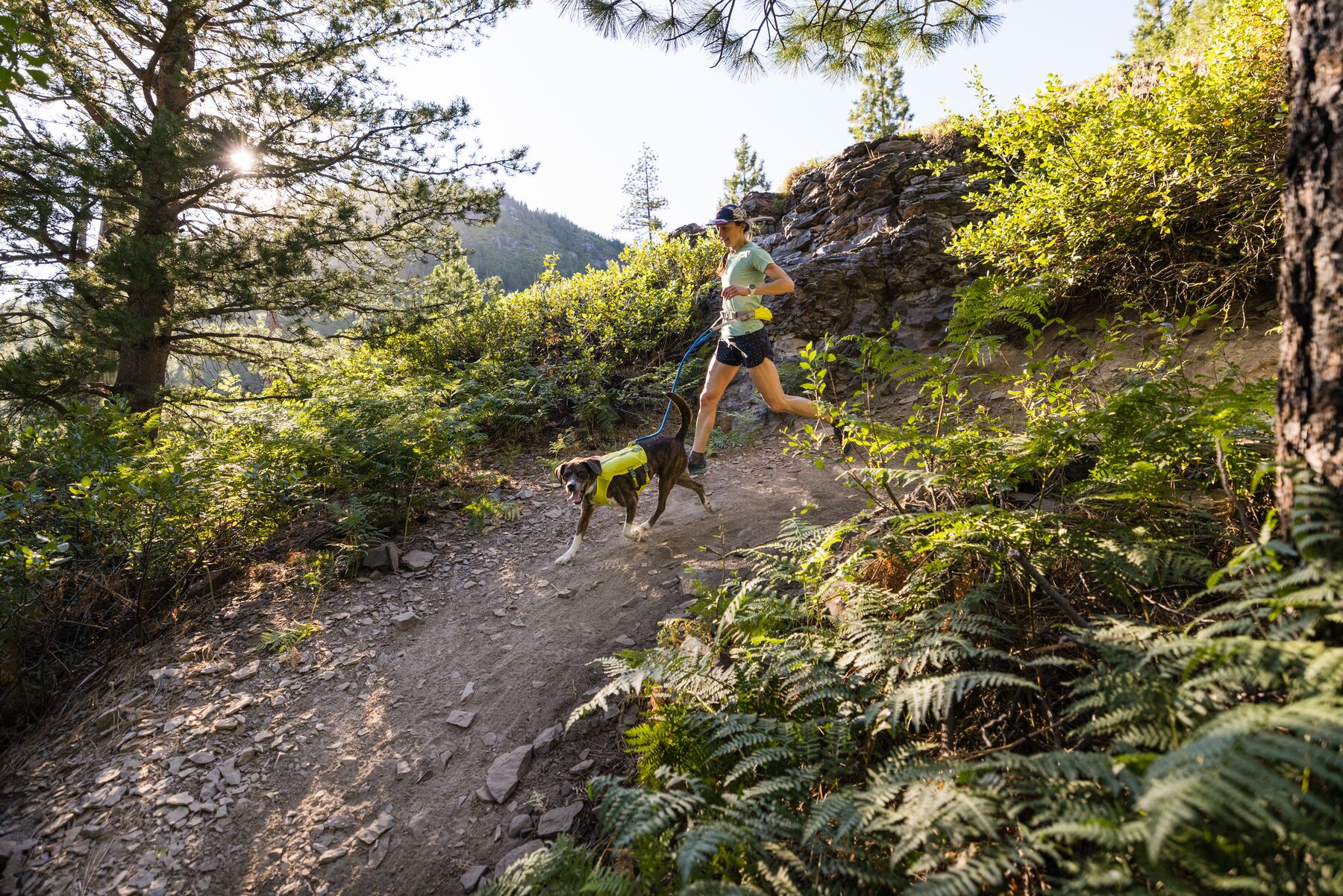 Speed Cues
Now that your dog has mastered politely walking by your side, it's time to speed things up. It's handy to have a cue such as "let's go" that tells your dog to walk on. When you're running, having a different cue like "move it" or "get running" can be used to tell your dog it's time to pick up the pace. The more information you can provide your dog about what you expect, the more likely they are to behave appropriately.
Teaching your dog the running cue is pretty simple. Alternate between short bursts of jogging or running and your normal walking pace. Immediately, before you increase your speed, give the cue and then reward your dog when they catch up.
Building endurance
Always make sure you speak to your vet before beginning any exercise regime.
Dogs, like humans, need to train and build up their tolerance. There's no one schedule that you should use for running with dogs. You need to tailor the exercise to both you and your pup's initial capabilities, and build up gradually as time goes on.
Start by adding small stretches of running into your walks, preferably on flatter terrain so they can learn how to run and understand commands. Start to increase hiking days in the hills as this can help to adapt your dog to elevation and more time out on their paws. Make sure to diversify your training on unknown tracks and terrain. Over time, you can gradually increase the portion of your time spent running and decrease the portion spent walking. After several weeks, your dog will have adapted to running long distances.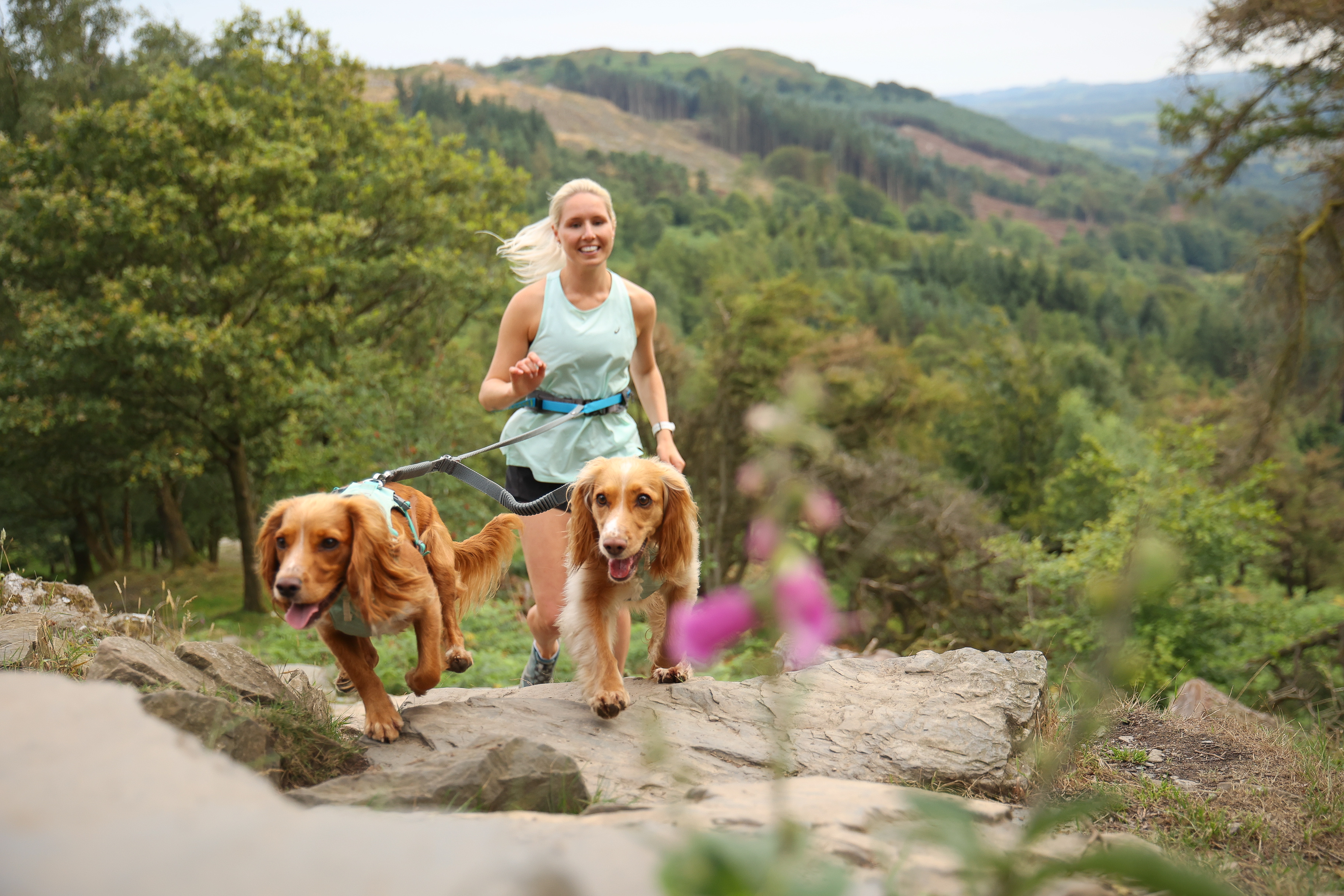 Always Cool Down
The cool-down period for dogs after a run is just as important as it is for humans. Towards the end of the run, gradually slow down and walk casually for several minutes to allow your dog's body temperature and heart rate to slow down. You may even consider giving your dog a muscle rub-down or help them to stretch their limbs when you get home.
Be mindful of post run chills
When you're running, sweat builds up on your clothes and body, so when you stop, your temperature falls and post-run chills can occur. Make sure you have a plan to get you both warm and dry quickly at the end of your run. The Ruffwear Dirtbag™ dog drying towel is the perfect post-adventure, absorbent coat for soaking up moisture, mud, sand, and grit from your dog's coat.
BONUS TIP
Use a different harness/lead for running and walking as this will help your dog identify which activity they will be doing