Posted by Amy Wellcoat / Ruffwear on Mar 16, 2022
WHICH HARNESS IS RIGHT FOR YOU?
Whatever the adventure, Ruffwear dog harnesses are designed to take canine explorers where they want to go. They offer solutions for everyday wear, training/leash pulling, or life-and-assist - all built from a dog's perspective.
Struggling to know where to begin? We are going to give you a rundown of each Ruffwear harness to help you make the best decision for your pup's needs.

Let's start with the most popular Ruffwear harness - The Front Range®. The Front Range® Harness is a padded everyday dog harness that is easy to put on and comfortable for dogs to wear. A key piece of gear for canines embarking on a life of adventure with their humans, the harness features two lead attachment options: an aluminium V-ring centred on the dog's chest to redirect dogs that pull on lead. The ID pocket keeps dog tags quiet and easily accessible, and the reflective trim and loop for The Beacon™ boost visibility in low light conditions.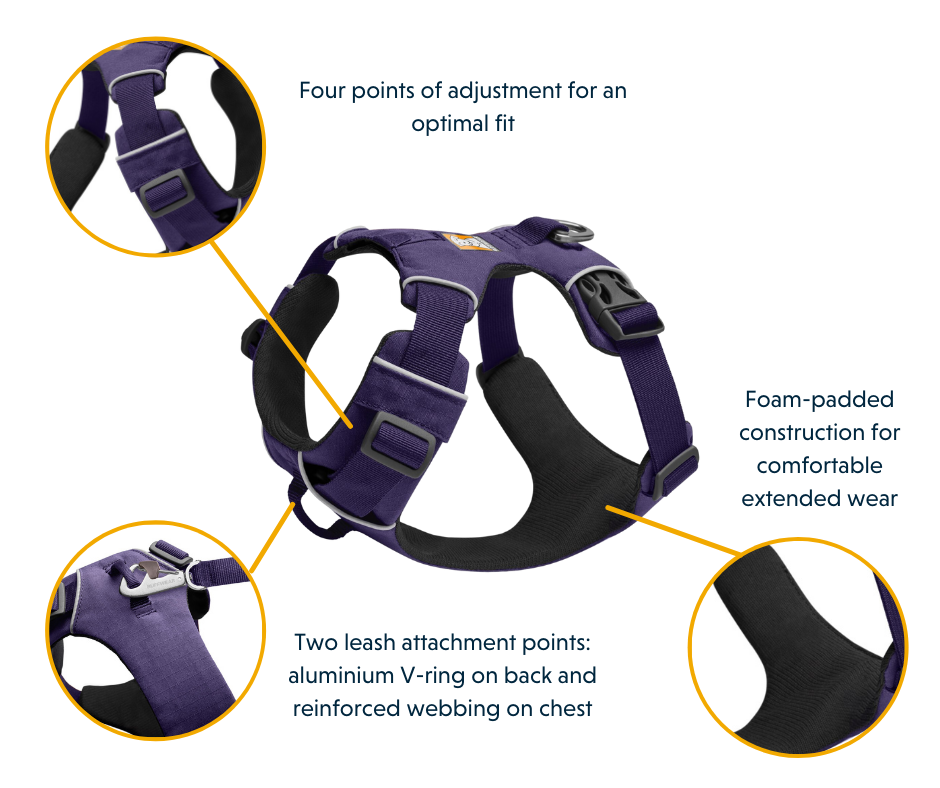 Key features:
Four points of adjustment for optimal fit
Foam-padded for long lasting comfortable wear
Two leash attachment points: Aluminium V-ring centred on the back & reinforced webbing loop on the chest
ID pocket for dog tags
Reflective trim for visibility & Ruffwear's Signature light loop
Great companions with the Front Range Leash & Front Range Collar

The Switchbak Harness has the padded comfort of an everyday harness with the bonus functionality of carrying small essentials. The two low-profile zippered pockets have room to stash those day-to-day necessities like pick-up bags, a lead, or some treats.It features two lead attachment options: a V-ring centred on the back and a reinforced webbing loop at the chest. great for redirecting dogs that pull on lead. Dial in the right fit with high adjustability and a padded belly strap - critical for stable gear carry and when giving a little boost with the low-profile handle. All in all, the switchbak melds comfort and convenience into a performance harness ready for both town and trail.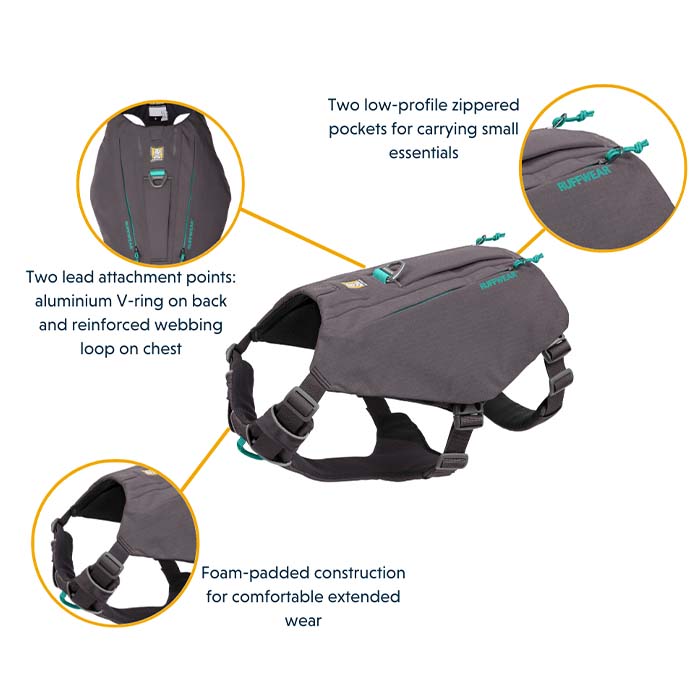 Key features:
Low profile zip pockets
Blue Sign approved materials
New padded design
Padded low profile handle and belly strap
Five points of adjustment
Two leash attachment points
Reflective piping and print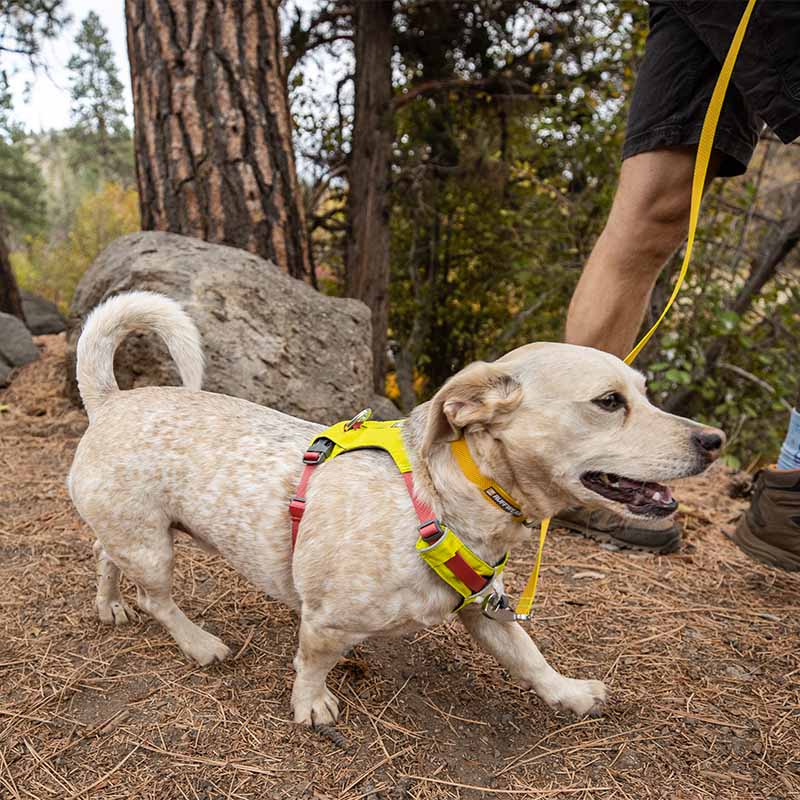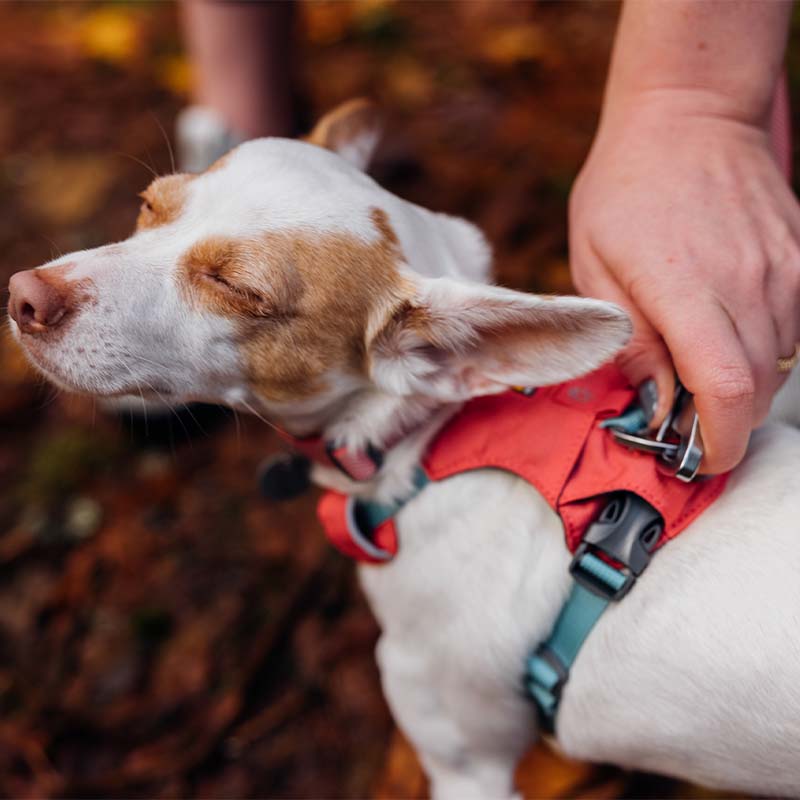 The Ruffwear Hi & Light™ Harness is a lightweight, low-profile adventure harness. This minimalist harness has four points of adjustment for a sleek, comfortable fit down to size XXXS. It features an aluminum V-ring leash attachment point on the back, a debris-resistant liner, reflective trim for low-light visibility, and a light loop for attaching The Beacon™. Scaled to fit even the smallest canine companions, the Hi & Light Harness is a great option for any dog that enjoys exploring in a harness.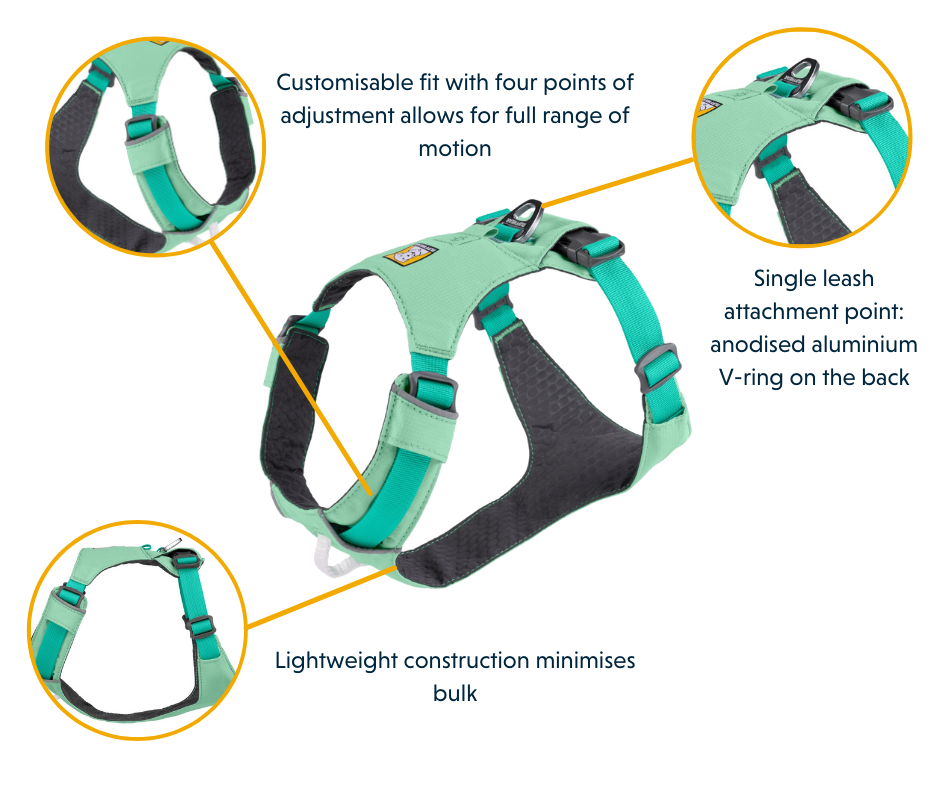 Key features:
Custom fit with four adjustment points
Made with Strong Rip Stop Nylon
Aluminium V-Ring Leash attachment point
Debris Resistant Liner
ID Pocket stores dog tags and pick up bags
Low Light Reflective trim
Light Loop for attaching Beacon Light

The Ruffwear Web Master™ Harness is a secure, supportive, multi-use harness built for maneuvering and assisting dogs up and over obstacles as well as for designated working dogs. Thin, durable foam provides support without hindering range of motion and a platform for attaching patches and signage for working dogs. Five points of adjustment create a secure fit, while padded chest and belly straps make the Web Master comfortable for all-day wear. The preferred harness of many avalache rescue dog programs, service dog handlers, and amputee dogs, the Web Master™ is a great collar alternative and ideal for hiking, scrambling, and mobility assistance.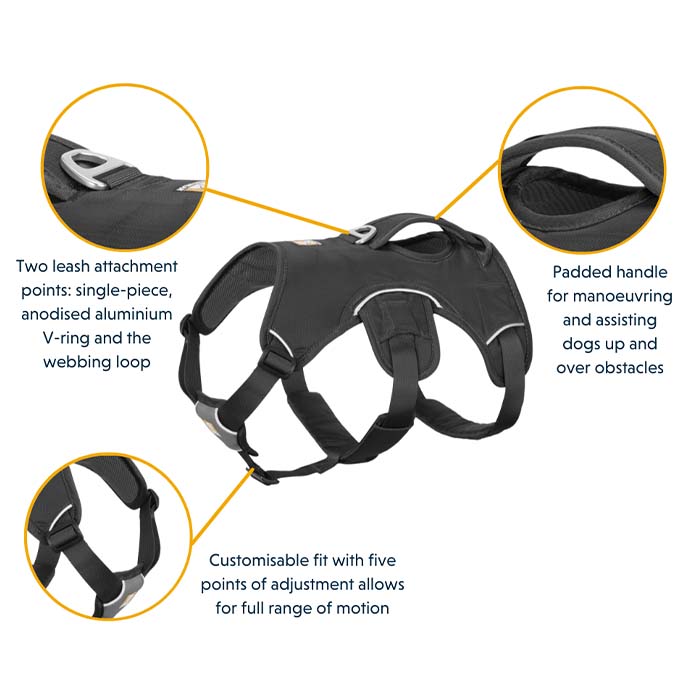 Key features:
Lift assist handle for manoeuvring over tricky paths and obstacles
Weight is evenly dispersed when lifting
Five points of adjustment allowing for secure fit
Efficient buckles which keep the harness in place during activity
Foam padded chest and stomach straps for comfort
Two leash attachment points for even weight distribution
Reflective trim for use in low visibility
Compatible with The Beacon safety light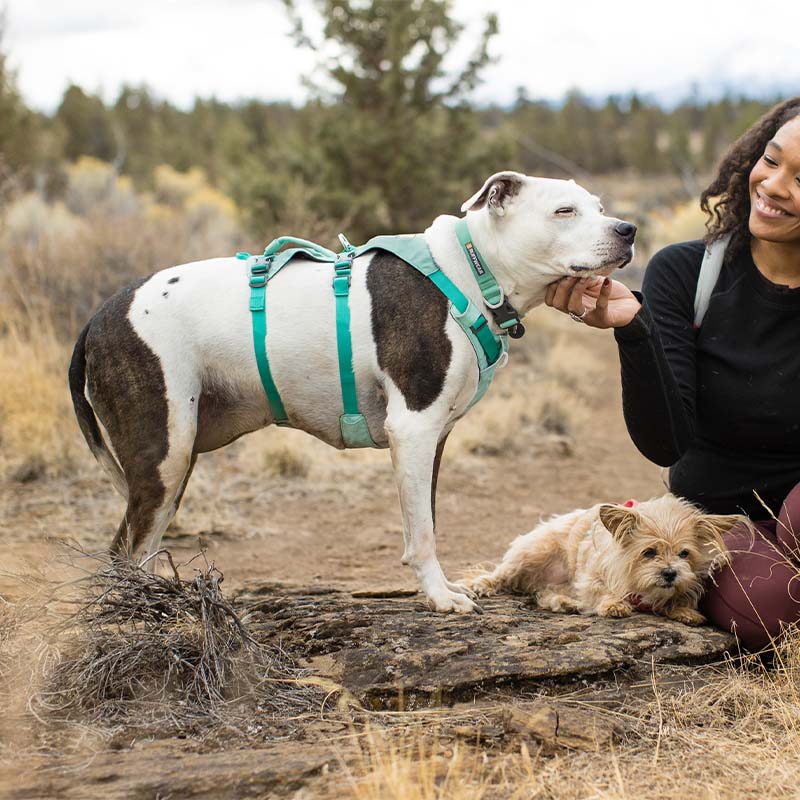 The Flagline™ Harness is a fast, light, and comfortable dog harness with handle that keeps dogs in their flow, from scrambling in the backcountry to conquering everyday obstacles. A handle and load-dispersing chest/belly panel make for easy lift-and-assist in a nimble design good for all-day wear. High adjustability and easy on/off make the Flagline™ secure and accessible, giving dogs a little boost and a lot of freedom when the path ahead is anything but flat.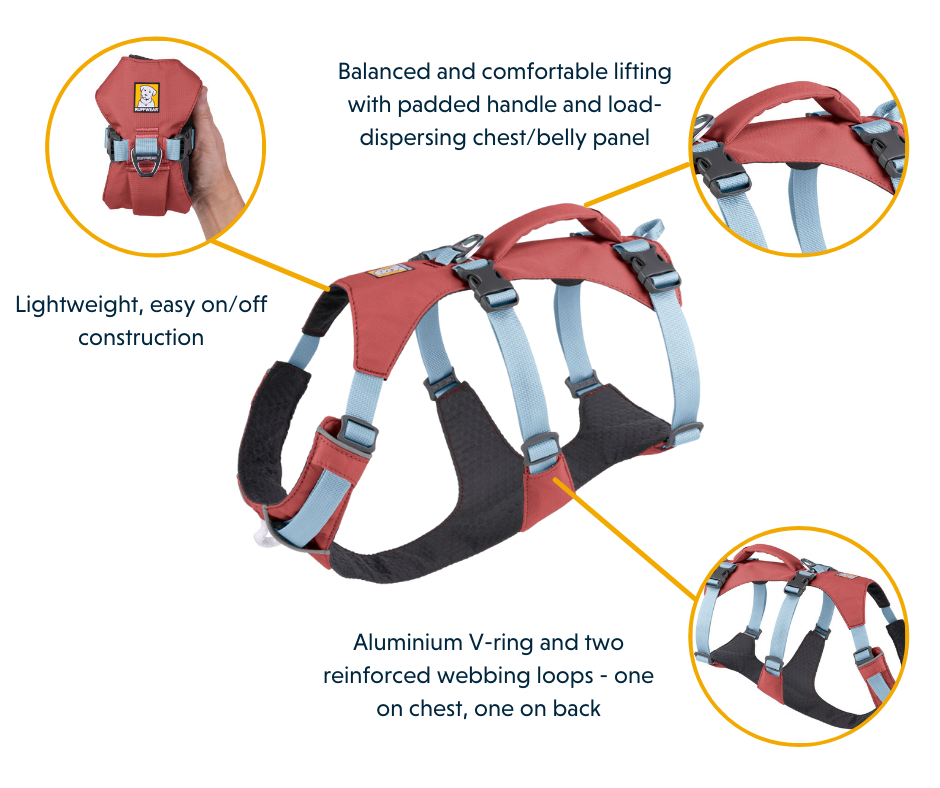 Key features:
Lightweight, easy on/off construction
Balanced and comfortable lifting with padded handle and load-dispersing chest/belly panel
Six point of adjust for optimal fit
Three leash attachment points
Debris-resistant liner
Reflective trim for dark walks and Light Loop for the Ruffwear Beacon Light