Posted by Amy Wellcoat on Jul 30, 2021
This summer we are all desperate to get back out there exploring with our pups again. Paddle boarding seems to be the new trend, but can you go paddle boarding with your dog? Of course you can! Stand up paddle boarding with your pooch can be very rewarding, relaxing and a great activity to try out if you haven't already. Here are some useful tips you will need to know to get started.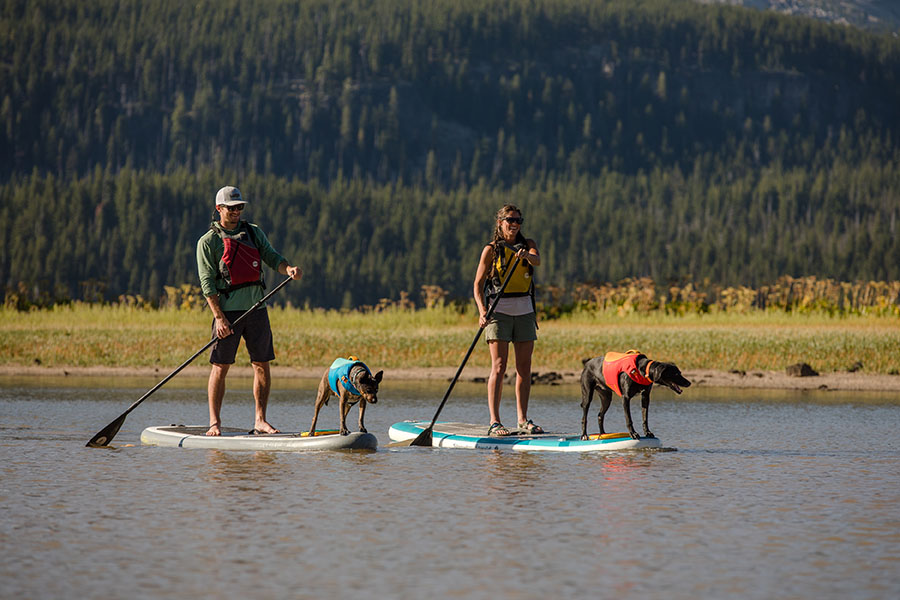 What will I need?
A stand up paddle board. Many lochs and lakes in our national parks have rental stations, or you can buy your own or borrow one!
A life jacket for you, and one for your dog.
Plenty of water!
I have all of these things. Now what?
Here's some things to do before getting on the board:
Exercise your dog before getting onto the paddle board, especially high energy dogs or puppies. Bring along a water toy like the Lunker to tire your dog out in the water, and have a paddle to cool off before relaxing on the board. This will hopefully keep them calm and make them want to sit or lie down on the board with less of an urge to jump off.
Keep their nails tidy to prevent them scratching the board, or from scratching you when they're trying to get back on. This will also help with slipping, a lot of boards can be very slippy due to the smooth surface. It might be an idea to find a board that has soft grip padding which will reduce the amount of slippery surface area.
Bring some treats along with you so you can reinforce good behaviour on the board
Bring along a small first aid kit just in case
Most importantly - practice, practice, practice! Before having a proper paddle, you should intentionally fall off the board so you yourself know how to get back on. Then lift your dog off the board into the water so you can both learn how to safely get them back on and you know what to expect when they do go for an unexpected dip! We explain how to do this below.
What to do when on the board with your dog:
Stay hydrated! The reflection of the sun on the water can quickly begin to dehydrate you both. Bring along some fresh water in a hydration pack and a collapsible dog bowl to avoid dehydration.
Some National Parks and beaches require dogs to be on a leash at all times so check the rules and law before you go. If you are allowed, you should think about leaving the leash on the shore. It can get tangled in your own board leash and also get caught on debris in the water. If you do feel safer with a leash on, you should attach it to their life jacket and stand on the opposite side of the board to them so it's not near your feet and you can still release him quickly if you need to.
Stand in a wide stance facing forward. This allows your dog to move around the board freely and provides a steady centre of gravity making it easier to navigate the board with both of you on it.
Practice your safety position by kneeling down when your dog is getting off the board - anticipate them going for a jump! They might just fancy a dip in the water, or when you start getting closer to the shore they can get a bit excited when they know it's time to get off. It is also just general safe practice to kneel when you're within 15 feet of the shoreline.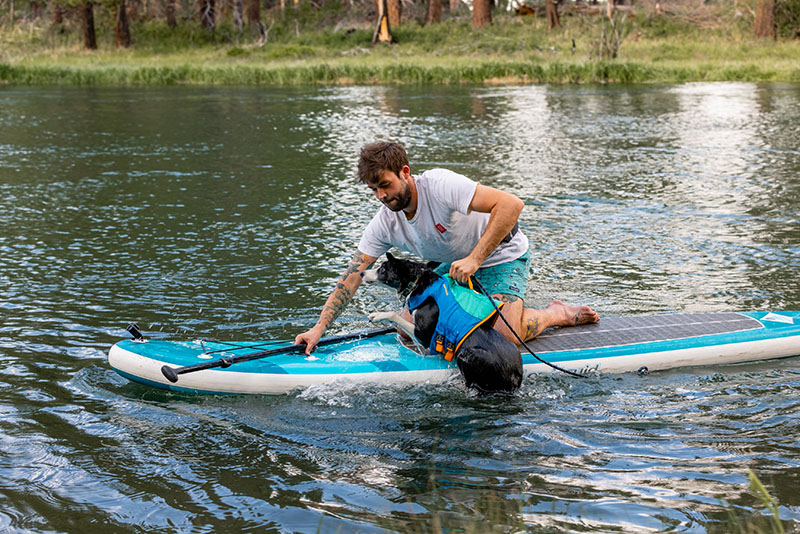 So, how do I get my dog back onto the board in deep water?
This is one of the most important skills you will need to have when paddle boarding with your dog. Medium and large breed dogs are more difficult to get back on board in deep water. Their life jacket really comes into play here! The Ruffwear Float Coat has a comfortable handle which will really help when pulling them back on board.
Make sure you are positioned in the middle of your board.
Move your dog so he's in front of you, with his spine perpendicular to the rails of the board.
Grab the handle located on the back of your dog's life jacket.
Your dog will naturally try to climb up and on with his front paws. When he starts doing so, give a slight tug and lift up on the jacket. This will allow your dog to get a back leg on the board.
Once your dog has weight on one back leg, he can manage the rest, but don't let go of the handle until all four paws are on the board.
Brace for the shake! All dogs shake after getting out of the water, so don't stand up until after he shakes!
Praise your dog. Don't make a big deal over your dog falling off. Instead, praise him for swimming back to the board.
Think of it like this: When done properly, you shouldn't be lifting your dog back on the board. Instead, you're just assisting your dog by taking a small amount of weight from the handle of his life jacket and guiding his natural movements. It's a good idea to practice this technique! Pick a warm summer day and ask your dog to swim out to you in deep water so you can be prepared for when they get a whiff of a nearby BBQ and jump off for a swim!
We hope these tips were helpful for those thinking about trying stand up paddle boarding with their pooch (aka. SUP with your PUP!) The most important advice we have is... stay safe and have fun! We would love to see you in the water with your furry friends, tag us in your photos on social media or send us your photos to our email.