Posted by Amy Wellcoat / Sarah Pugh on Mar 04, 2021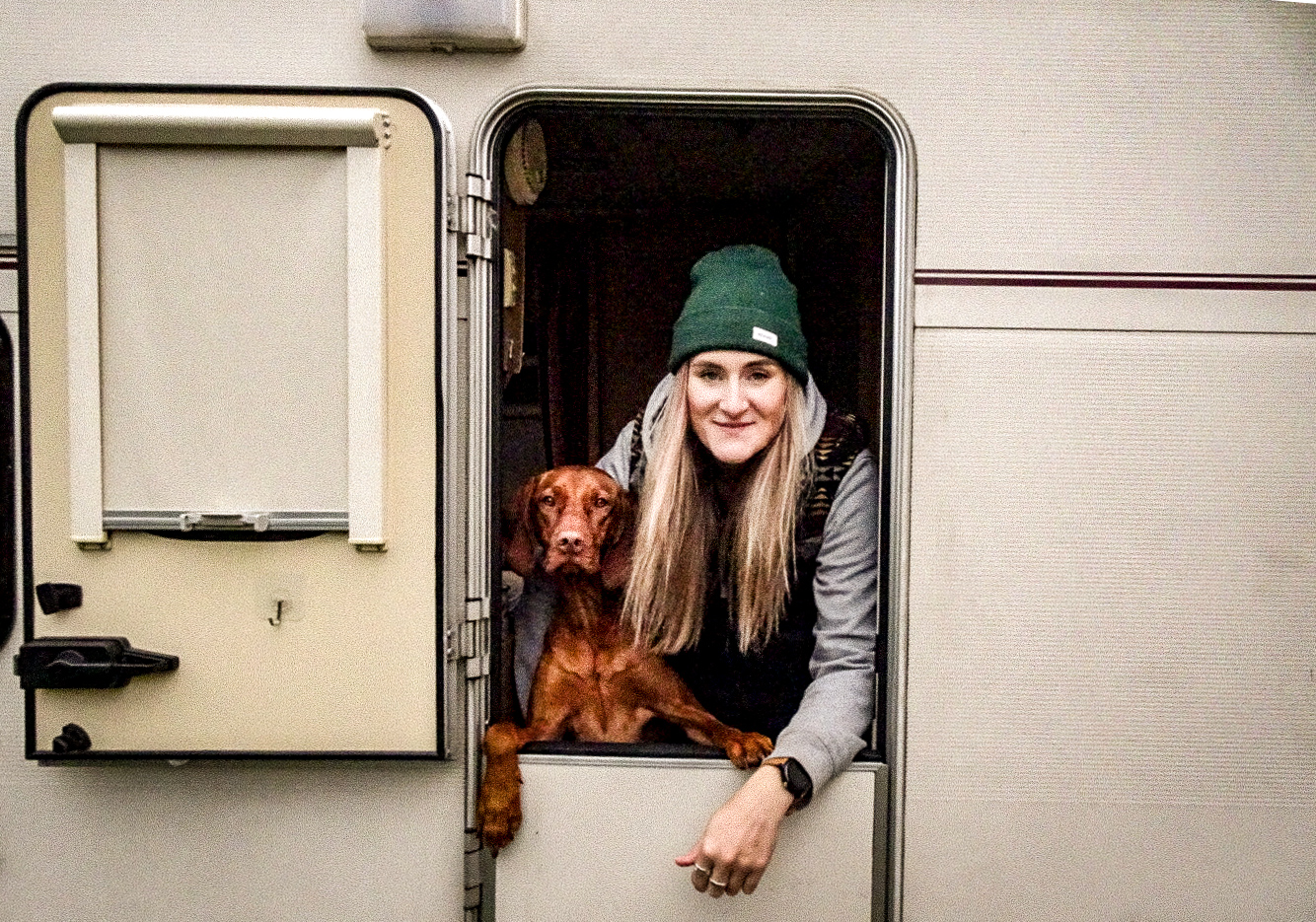 We are so excited to be stocking tasty new dog protein bars by HundEnergy.! The founder, Sarah, says their aim is to inspire as many dog owners to explore life with their dogs in tow.
Their flagship product is the HundEnergy. Bar which is a natural, plant-based nutritious snack for dogs on-the-go and it's also made in the UK.
Sarah has always been a firm believer that dogs are our closest connection to nature and the outdoors. A dog can help us completely switch off from whatever else is going on in the world and just focus on whats in front of us.
In Summer 2019, Sarah and her partner Andrew travelled across Europe in a caravan with their (then) 11 month old Hungarian Vizsla, Pacha.
They hiked across beautiful countryside in France, Austria, Slovenia, Poland, Norway and many other countries (25 in total!) They say that taking their dog travelling with them was something neither of them had experience in and they weren't sure how it was going to pan out. But they had the time of their lives, and taking Pacha with them only added to the experience.
Whilst on the trip, they were always making sure to take lots of healthy, natural snacks to keep them going, and it was then they recognised there wasn't really anything like that on the market for dogs.
For the rest of the trip, the idea pretty much consumed Sarah from that point onwards. She studied Canine Nutrition when returning and got to work in the kitchen to create not only a plant-based recipe but also one that her dogs were excited to eat (they had a lot of fun!)
Everything else came after that, they worked with a UK Manufacturer to turn their idea into something they could share with the world and now they're here!
Made from human grade superfoods, all carefully sourced and produced in the UK, these dog energy bars are full of important vitamins, minerals and protein. Including raw peanuts and nutritional yeast which are great for keeping active dogs stimulated on the go. Carbohydrates from the gluten free oats provide a quick energy release, this is ideal for those busy or working dogs who need a lot more energy than usual. They also provide important amino acids which dogs bodies can't produce naturally, and vitamin C, helping your dog with their stamina and mineral and vitamin absorption thanks to the added Flaxseeds and Apricots.
Containing zero additives and super easy to digest thanks to the Chicory Root which helps to break down foods and promotes a healthy digestive system. HundEnergy. really have thought of everything your dog would need to keep them going whilst on the move.
The HundEnergy. Bar is definitely something that isn't just a nutritious snack for dogs. With their Paws to Roam ethos, Sarah hopes to encourage dog owners to take their dogs a bit more off-the-grid and not have to worry about keeping their dog fuelled on adventures by using their Bars. They have already started a great community with similar minds, and Sarah says this really keeps her inspiration flowing and aiming to work even harder to build on their company and share with dog owners everywhere!
Go check out HundEnergy.