Posted by Amy Wellcoat / Ruffwear on Apr 20, 2022
WHICH RUFFWEAR PACK IS RIGHT FOR YOU?
Summer is the season for backpacking, camping, and long days on the trail. If your furry companion is ready to carry their own gear and you're wondering which pack to choose, we can help. Below, we have broken down each Ruffwear pack by their distinguishing features and the types of adventures for which they're designed. Take a look, and start dreaming about where the trails will take you next.
HOW MUCH WEIGHT CAN MY DOG CARRY IN THEIR BACKPACK?
A good rule of thumb to start with is keeping the total carrying weight (including the pack and its contents) under 25% of your dog's body weight.

Fitness and breed will affect how much your dog can carry. First-time pack-wearers or senior dogs may want to go a bit lighter. Puppies are encouraged to wait until they're fully grown before carrying any weight, so that their bones and muscles are nice and strong for their big adventures. You can pop on an empty backpack to get them used to the feeling of wearing one.
HOW DO I GET MY DOG USED TO WEARING A BACKPACK?
Putting an empty backpack on your dog during short walks is a great way to get them used to wearing a pack if they're too young to be carrying weight just now, or if you're not planning on hiking together just yet. This will help them get used to the feeling of having something resting on their back and sides - pretty similar to a harness, just with a bit more material.
You can gradually add a little bit of weight the closer you get to embarking on your hiking trip, just so they can get used to the change in weight. This will also help to familiarise yourself with all of the pack's features and compartments, you'll soon find out where you like to keep everything, each essential will claim it's own spot. Remember to give your dog rewards and lots of high praise when learning how to carry their pack!
NEW DESIGN

Ruffwear's Palisades Pack is designed for thru-hiking and multiple days on the trail. The Palisades Pack is the largest of the Ruffwear packs, as well as the removable saddlebags and two collapsible 1 litre water bladders, there's also a cross-load compression system that cinches down and stabilises pack contents. If you're off on your hiking or camping adventures for more than a couple of nights, then this is the pack we'd recommend for your dog and all of their essential gear.
Key features:
Detachable saddlebags
2 water bladders to stay hydrated on the go
Handle for quick grabbing and easy lifting
Breathable & flexible harness base
2 in 1 harness & backpack
Ideal for long multi-day hiking
NEW DESIGN

A dog backpack for day hikes and light overnight stays, this pack has excellent performance, fit, and functionality. The radial cut saddlebags are attached to an integrated harness with a breathable chassis, making it perfectly comfortable for all day extended wear. The capacity of the saddle bags is a bit smaller than those on the Palisades Pack, but still large enough to hold your essentials and even the Highlands Bed. With a weight-forward design, the saddle bags have a compressions system that is comfortable, form fitting, and carries the load efficiently.
Key features:
5 points of adjustment for a tailored fit
2 leash attachment points
Breathable, flexible & comfortable harness core
Zipper saddle bags to fit all of your hiking essentials inside

With plenty of internal organisation and trail-minded details, this comfortable day pack equips dogs to carry the day's supplies on hikes and front country pursuits.
The Front Range Day pack has those signature radial cut saddle bags with the ever popular Front Range Harness base, making it great for every day wear for every day adventures! The design of the saddlebags also has a compressions system that makes the pack form fitting, and balances the load efficiently. Dogs can help shoulder the load thanks to the integrated padded harness and belly strap that adjusts for exceptional fit and pack stability.
Easily clip your dog's leash to one of three attachment points, choose from the aluminium v-ring or tow loop on the back, or the reinforced webbing loop on the chest - a great no-pull function for dogs who need a bit of redirection.
Key features:
Ideal for every day usage for dogs on the go
Same comfortable design as the Front Range Harness
Low profile handle for grabbing and lifting
2 zipper pockets
3 strong leash attachment points

The Singletrak™ Pack is a sleek, low-profile hydration pack for dogs which is ready for any adventure from day hiking to trail running. It includes and carries two 0.6 litre collapsible water packs, and also has room for small adventure essentials like poop bags, treats, a dog bowl, and a leash in the two stash pockets. The foam padded belly straps and chest make carrying the load efficient and comfortable.
The Singletrak Pack is ideal for dogs who are really active and on the go, if you have a day of hiking, biking or running planned, then your dog will benefit from the handy hydration packs inside to keep them fuelled up. There's also a conveniently placed oversized handle for lifting your dog over obstacles like rivers or stiles.
Key features:
Oversized handle for extra easy lifting
Hydration pockets for water supply
2 leash attachment points
Foam padded chest & belly straps for extra support
If you need a certain capacity or function, you can find the right pack for your dog using the Ruffwear pack comparison chart below: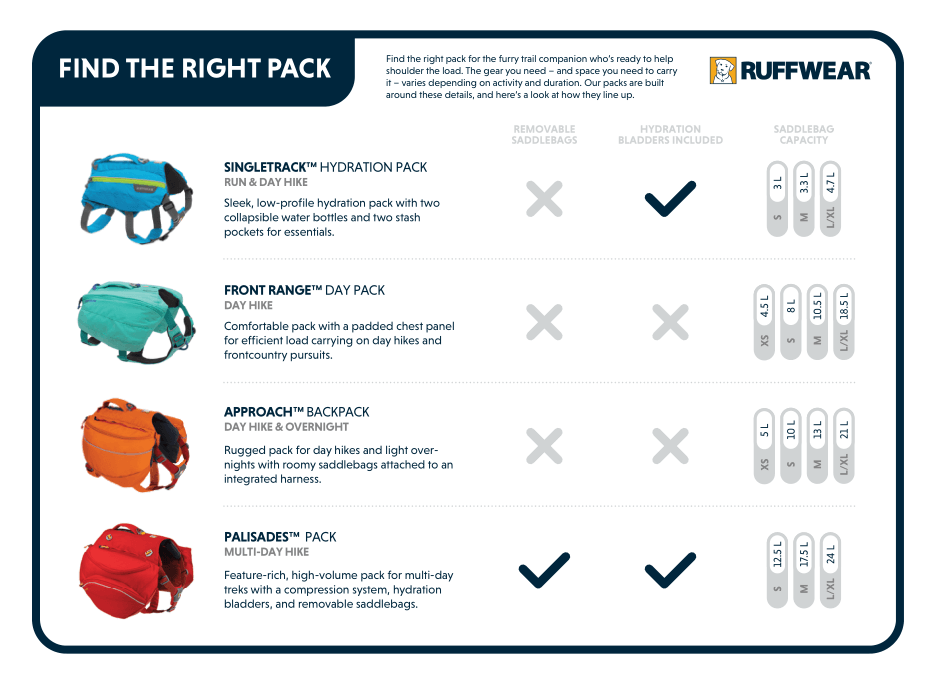 Photos by Ruffwear / Tyler Roemer