Posted by Amy Wellcoat on Feb 09, 2021
As one of the first retailers in the UK to stock Ruffwear, and the largest Ruffwear dealer in Scotland, we at K9 Active are so excited to introduce you to their brand new Spring/Summer 2021 collection - all available to preorder now!
Featuring two new Harness styles to pick from - both with pockets for all of your bits and bobs! - and two new leash designs where Ruffwear have given us even more wearing options. Including the Flat Out Leash and Collar which show off 12 new patterns, all inspired by natural landscapes and wildlife, and the entire Front Range Collection has even had a fresh lick of paint with two new colourways, giving you the chance to match all your new gear!
Not only have they brought us exciting new products, but for Spring/Summer 2021 Ruffwear are also taking a deeper look into the role that dogs play in getting us outside – and helping us find our way – as we navigate life's journey. Whether it's searching for a place of belonging in the outdoors, learning a new activity alongside our furry best friend, or simply getting our feet underneath us, our dogs add lightness, joy, and connection to whatever we're experiencing. Something that has been so needed especially throughout the last year. They're our constant companions. What does your dog mean to you? Make sure to use the hashtag #mydogismy on social media so we can see!
Here's what we've all been waiting for, explore what's new for 2021...
Trailhead Collection - Available From February 17th, 2021
This gear celebrates the versatility and multi-functionality needed to both function in the outdoors and equip you to step out, seek new trails, and venture further. Designed to inspire you to find new paths, trails and adventures with your dog, no matter what season it is!

Have you ever been on a nice walk and thought you could really do with some extra pockets, just for the little things? We certainly have, especially in summer when we wear lighter clothing with less storage! The Switchbak Harness has the padded comfort of an everyday harness with the bonus functionality of carrying small essentials. The two low-profile zippered pockets have room to carry those day-to-day necessities like pick-up bags, a leash, some treats or even a pair of doggy boots! It features two leash attachment options: a V-ring centred on the back and a reinforced webbing loop at the chest, great for redirecting dogs that tend to pull on leash. Find your perfect fit with high adjustability and a padded belly strap – both critical for stable gear carrying, or a little boost with the low-profile handle. All in all, the Switchbak melds comfort and convenience into a performance harness ready for both town and trail adventures!
We know many of you have been looking for a lead with that extra bit of length. Well, it looks like Ruffwear has granted our wishes! Versatility is at the core of the Switchbak Leash, ready to adapt to the ever-changing needs of your and your dog's on-leash pursuits. When conditions change, switch it up on the fly with this adjustable-length, double ended leash. Not only can you keep it on the shortest length of 2.5ft - great for controlled walks during training and in busy environments - but you can also extend the leash up to 7ft, and everything in between! Giving your dog plenty of freedom on those off-road expeditions and runs. The supple, lightweight webbing allows smooth adjustments and a comfortable grip. Ruffwear's custom sliding V-rings offer seamless transitions between the various leash configurations, choose between waist-worn, over-the-shoulder, hand-held, a coupler, double-clipped, and more - whatever happens to suit your needs that day! Of course you can also mix and match the design and colours with the Switchbak harness for a coordinated wardrobe.

One of our personal favourites and a popular choice amongst our customers, the Roamer Leash has had a fresh redesign and updated colour options. This is an adjustable stretch-webbing running leash that can be hand-held or worn around the waist for a dynamic hands-free leash experience. Wavelength™ stretch webbing keeps humans and canines connected while allowing an extended range for roaming and exploring. The user-friendly side-release buckle, reinforced with an aluminum Uniloop, provides exceptional strength, while Ruffwear's unique Talon Clip™ offers a strong and secure leash-to-collar attachment.
What else is new? Ruffwear have added New Wavelength™ webbing for improved stretch rebound and longevity. Just when you thought it couldn't get any better!
Flat Out Leash (New Design)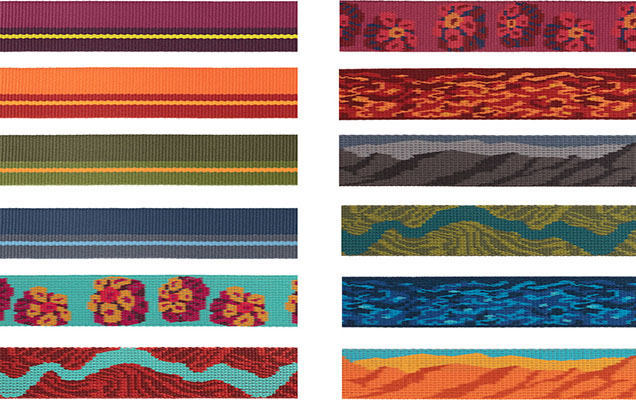 We think the colourful new Flat Out range will be a well loved addition to everyone's outdoor dog gear! With 12 beautiful new patterns to choose from, all of which have been inspired by the surrounding landscapes, flora and wildlife surrounding Ruffwear's HQ in Oregon, USA. From the Rocky Mountains, to bright florals, sunsets and the Colorado River, there's a pattern here to suit everyone no matter what your favourite natural element is.

The Flat Out Leash is an everyday leash that blends durability, versatility and outdoor aesthetics. This adjustable leash can be hand-held or worn around the waist for hands-free leash walking, giving you both some extra freedom. The side-release buckle is easy to use and reinforced with an aluminium uniloop, providing exceptional strength which is great for all those energetic dogs out there! Ruffwear's unique Talon Clip™ offers a strong and secure leash-to-collar attachment. Of course the outdoor-inspired patterns connect you with your favourite wild places and pair perfectly with the matching Flat Out™ Collar!
What's new? As well as new colours, Ruffwear have updated the handle liner and improved durability on the Tubelok™ webbing with a locking edge, an overall longer lasting design for all walk lovers.
Flat Out™ Collar (New Design)


The Flat Out Collar used to be the well known Hoopie Collar, with this updated design and new name, it now coordinates perfectly with the Flat Out Leash so you can match your gear if you fancy a stylish outfit option! This is an everyday, casual dog collar with an easy-to-use side-release buckle. Packed full of Ruffwear's essential collar features, such as a separate ID tag attachment point with tag silencer, strong and comfortable webbing, and a durable aluminium V-ring. Pick from 12 new patterns inspired by the outdoors, the perfect accessory for our little adventurers!
So, what's New? This collar also includes improved durability on the Tubelok™ webbing with a locking edge to twin with the same fantastic materials as the leash, and stylish new colours.

An old favourite, the Quencher Bowl has been updated with some stylish new neutral colours. As we all know, keeping fuelled means you can keep exploring – and the Quencher is the original packable travel dog bowl for just that! Designed to provide dogs with food and water on the go, this collapsible fabric bowl folds and fits in a pocket or backpack. So no matter where the trail leads you, your dog can stay hydrated and satisfied. Available in three different sizes to match your dog's appetite for adventure, there's something for everyone!
What's new then? All new colours - Tumalo Teal, Fired Brick and Huckleberry Blue

The Quencher Cinch Top Bowl simplifies fuelling on the go even further with an integrated drawstring closure that keeps kibble contained en route and accessible at mealtime. It's a twist on their original packable dog bowl – cinching closed when it's full, opening wide when it's chomp time, and then packing down when it's empty. Great for hungry dogs on the trail, camping in the wilderness, or anywhere in between. Available in two sizes to suit your dog's hungry needs. Feeding on the go really couldn't be any easier!
What's new? A new earthy colour – Tumalo Teal
Front Range Family – Available From February 17th, 2021
The Front Range Family invites you to embark on a life of adventure with your dog – and it's the essential gear that meets the basic needs to be able to do so. If you're looking to get your paws out the door and step into the wilderness, the Front Range Collection is the perfect place to start!

Possibly the most exciting addition to the collection this time around - The Front Range Day Pack. It incorporates Ruffwear's signature radial cut saddlebags with your favourite Front Range® Harness platform, making it an everyday pack staple in any dog's gear closet. Dogs can help shoulder the load thanks to the integrated padded harness and belly strap that adjusts for exceptional fit, pack stability and ultimate comfort!
The saddlebag geometry creates a passive compression system that is form fitting and supports efficient load carrying. There are three leash attachment options: a V-ring and a tow loop on the back, and a reinforced webbing loop on the chest – great for redirecting dogs that pull when on leash. With plenty of internal organization and trail-minded details, this comfortable day pack equips dogs to carry the day's provisions on your hiking trips and long walks. Choose from three fresh colours, Aurora Teal, Blue Moon and Red Clay, all natural hues that fondly remind us of walking up the hills on a clear crisp morning.

Another absolute classic and a firm favourite of our canine customers across the country. Ruffwear have kindly given us two brand new colours to pick from, now giving us 8 in total! Blue Moon and Aurora Teal are the newbies, beautiful tones of blue and green which match perfectly with the rest of the Front Range Family.
This is a padded everyday harness that is easy to put on, and super comfortable for our furry friends whether you're going on a casual walk together or a long trek. It features two leash attachment options: a V-ring centered on the back, and reinforced webbing at the chest, ideal for redirecting dogs who pull on the leash.
So, what's new? New blue toned colours – Blue Moon and Aurora Teal

The nation's favourite everyday leash, with an ombré pattern that has been designed to coordinate with the Front Range® Harness and Collar. Features a padded, ergonomic handle and a lightweight, low-profile Crux Clip™. Why not start off the new year with these fresh new colours, and even mix and match with the Collar & Harness!
What's new? New colours – Blue Moon and Aurora Teal

The perfect collar suitable for everyday use. Featuring an easy-to-use side-release buckle so you can effortlessly attach and remove. Also available in the new colours and designed with an ombré pattern that coordinates with the Front Range® Harness and Leash. All of Ruffwear's fabrics are made from colour fast materials, so you don't need to worry about your favourite, bright new colours wearing away or washing off.
What's new? New colours – Blue Moon and Aurora Teal
That's all for now! Which ones are you most looking forward to? Do you like the bright new colours and improved designs? We definitely do, and to be honest, we really can't choose a favourite because we love them all so much.
If you decide to order any of these new pieces for your pooch, make sure you remember to tag us on instagram and facebook @k9active - we would love to see all of our K9 Active models!