Posted by Amy on Sep 24, 2020
Reflective dog equipment is in the forefront of our minds at the moment, as we know, the darker nights are quickly drawing in and the weather isn't so warm and bright. We need dog lights to see our pooches in the dull, foggy days and dark, long nights!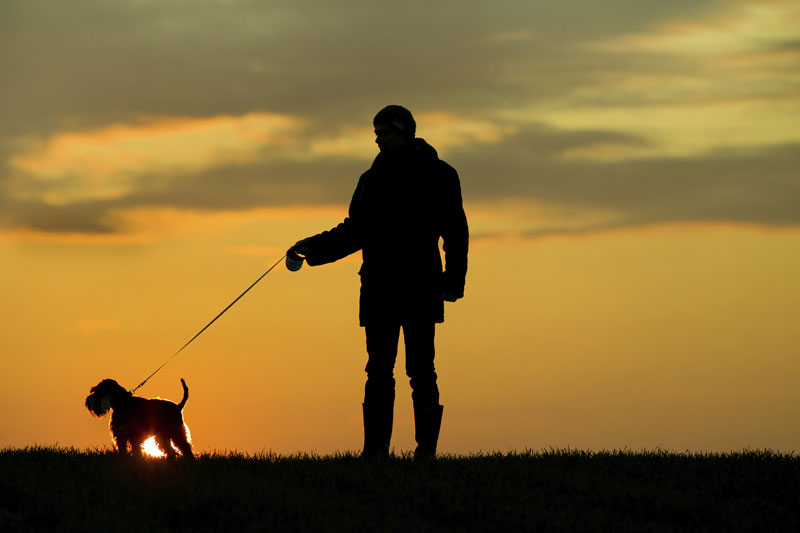 With another dark day season just around the corner we have decided to revisit how we can help keep your best friend seen and safe on those dark but necessary dog walks.
Dog walking in autumn and winter can be a dangerous game. At K9active we have you covered though, from the Orbiloc Dog Dual Safety Light, to warm dog wear, reflective dog attire and collars that cut through even the thickest fog. Our winter wardrobe for dogs has something for everyone.
Dog lights – Shine Bright and Be Seen
The Orbiloc Dog Dual Safety Light is a light that will keep you and your dog safe and seen whether you are wild camping or walking along a dark lane. Easily attach the light to your dog's harness or collar in seconds and you're all set for your evening walk. It's also designed to be attached to your own clothing so why not get one each? These lights are so bright that you can see them from 5k away, so you and your dog cannot be missed whilst walking in the dark. Also available is the Orbiloc Service Kit which includes a set of batteries and replacement o-ring to keep the light waterproof.
The Ruffwear Beacon Dog Light is a great waterproof addition to your dark walks that can also be used whilst swimming by attaching it to your dog's collar or buoyancy aid. It's easy to use Quick Clip that can be attached to all Ruffwear's other products including coats, collars and harnesses. A rechargeable dog light with a choice of 3 different LED colour options Red, Blue and Green and variable light modes which can be set to slow flash, fast flash or to be on permanently. With this dog light you will be able to see your dog when it is dark wherever or whatever he is doing.
Reflective Dog Accessories for Autumn
Our best friends are about as equipped for the colder weather as we are nowadays. They too live in warm houses with roofs and central heating. So as we begin to go on autumn walks amongst the colourful, falling leaves, most of our dogs need some kind of extra protection from the unpredictable weather as well as the darker evenings.
We have a wide range of reflective accessories available to buy on our website so do go and take a look. You will see goodies just like these:
Ideal for pet owners living in climates where rain is common, the Monsoon Coat by Hurtta has completely taped seams, ensuring a 100% waterproof design that will provide full protection from mud, water, wind and rain - just what you need for the up coming season! The design also has reflective piping and print across the Overall, helping to improve visibility during darker evenings so you can always spot your pooch.
The Ruffwear Front Range Harness features bright new colours with plenty variety to pick from. This design is not only super comfortable and fully adjustable, but it also has similar reflective piping across different areas of the harness. Conveniently designed so you can't miss your pup on your walks.
The reflective Crag Leash and matching Crag Collar by Ruffwear have a range of colourful designs inspired by different locations around the world, such as The Three Sisters in Scotland and the bioluminescent phytoplankton found in the tidal wash along Pacific Northwest coastlines. A stylish yet practical addition to any canine wardrobe!
So, whether you live in town or out in the wild, winter is coming and a safe dog is a visible dog. We have so many options available designed to keep you and your best friend seen whatever the weather, so make sure you are prepared in time this season!