Posted by Zena Conkey on Jan 20, 2021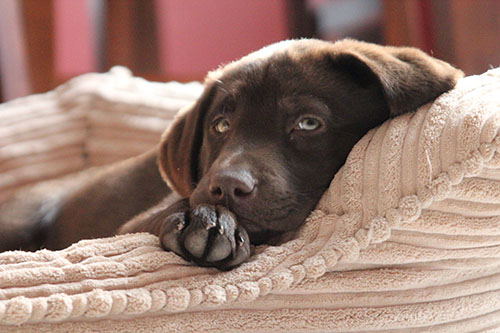 Here in the UK we have only a handful of times where the weather stops us in our tracks, but we do have them. Most of the time we can kit our dogs up, in dog boots and clothing, to tackle the snowiest weather and still offer a walk, even if it's just a short stroll. With the fantastic range of outdoor protection for dogs available we need not hide indoors from the cold. So what can we do about getting the dog happy, exercised and content in between walks or when the outdoors is out of bounds?
There are some days when it would be foolish to go out and a dog won't amuse himself on Facebook or a games console so what can you do to use up his energy? Well there are a few options when looking to entertain your dog indoors.
Brain Games
Nina Ottoson is pretty much a dog games genius. She creates games, puzzles, toys and interactive fun for dogs. Whether your dog is pulling out a peg to slide along a cover and release a treat or constantly knocking over a pyramid for a food reward, you can be sure that a toy from Nina will use up his mental energy.
Food for Thought
If you like the idea of giving your dog an interactive toy and getting on with your chores a treat dispenser or activity ball is the toy for you. There are many toys like this that you can simply stuff your dog's breakfast into and give your dog the floor. For example we currently stock a variety of Ruffwear toys such as the Huckama and the Gnawt-A-Cone which both dispense treats whilst your dog is having a good chew.
Scatter feeding your dog is a great idea if you use kibble. Rather than giving a slightly bored dog a bowl of kibble and then expecting him to eat it and settle down why not scatter it? I love scattering food around and watching the dogs all chasing towards the magic treats. The house enters a wonderful state of excitement when food is merrily falling from the sky. A great game that your dog will find fun and tasty!
New Tricks and Targeting
If you would prefer to spend that occasional weather enforced, indoor day teaching your pooch something new, why not make him useful in the house? Teach him to close doors, fetch the mail or collect you a drink and even tidy up after himself. Targeting is a wonderful way to teach a dog even the most complex tricks.
Targeting with or without a clicker is pretty easy. All you need is some treats and good timing and an item to target your dog to. A targeting item can be a stick, a disk, or even your hand. The idea is that when a dog touches something you mark the behaviour with a click or your voice and hand over a treat (reinforcement and reward).
When he starts to get the idea, you can withhold the reward until the dog puts more effort into touching the target. Next you can move the target around until your dog touches it wherever it is and you have a dog that will shut the door, via a disk, or ring a bell to go outside for a pee.
By the time your dog has exhausted his toys and games, plus done all of the household chores, the big thaw will be well underway and you can get back out in the wintry sunshine.