Posted by Zena Conkey on 14th Aug 2020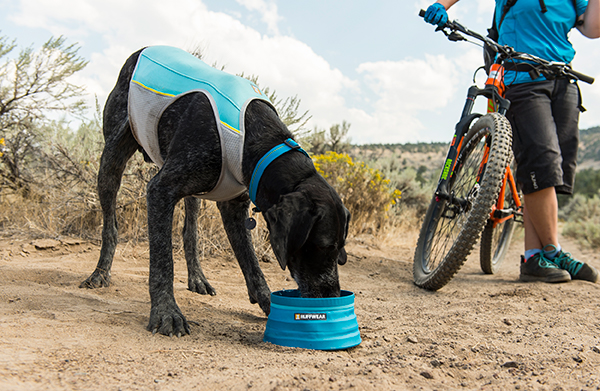 A Cooling Jacket may be the answer!
As summer is fast approaching, many dog owner's thoughts begin turning to the challenges of the warmer weather and how to keep their dogs cool and comfortable, particularly if their dog is very active or involved in canine sports.
For many dogs, this may mean that they need something of a helping hand to maintain a cool enough temperature, for which cooling jackets are often the perfect solution.
In this blog post, we'll look at some of the features and benefits of our range of cooling jackets here at K9 Active, including the NEW Hurtta Cooling Wrap, which can be a real lifesaver for hot dogs during the warmest summer weather! Read on to learn more.
What are cooling jackets?
Cooling jackets do exactly what they say on the tin-they help to keep your dog cool or bring their body temperature down when the weather is hot. Cooling jackets can be a real lifesaver for brachycephalic dog breeds who often have problems maintaining a stable body temperature in hot weather, such as the French bulldog - but they can also be really useful for active, lively dogs and working dogs too!
Cooling jackets come in a huge variety of shapes and sizes to fit virtually every breed, and they are designed to be soaked in cool water before putting them on your dog, to help to cool them down or keep them from overheating. So do dog cooling jackets actually work? check out our article "Do dog cooling products actually work" here covering Ruffwear's range of cooling gear for dogs.
Our range of products help to keep your dog cool, and below, we'll look at a few of our favourites, their features and benefits, and how to use them.
The Swamp Cooler is simple to use-just soak it in cool water and wring out any excess, then put it on your dog. As your dog's body heat evaporates the water, it helps to cool them down, as well as providing the additional benefit of being a light colour to ensure maximum sun reflection.
The Swamp Cooler has a wicking outer layer to permit evaporation, with an absorbent middle layer to hold the water, and an inner layer that is comfortable and light, designed to provide the maximum possible cooling benefits to your dog. When all of the water in the cooler has evaporated, simply remove it and if required, re-soak it and put it back on.
The Swamp Cooler is a great choice for active or working dogs because it is designed to permit a full range of motion, and has easy-release buckles as well as a reflective trim to allow your dog to stand out in low light.
The Jet Stream cooling jacket is just the ticket to allow a full range of movement with superior cooling, making it perfect for active or working dogs. As is the case with the Swamp Cooler Jacket, simply soak it in water, wring it out and put it on your dog using the easy zipper closure.
Designed to reflect the sun's heat as well as allow for cooling evaporation, the Jet Stream too has reflectors for an additional layer of safety in dim lighting.
Finally, Ruffwear's Core Cooler provides dogs with essential cooling to the chest and tummy, and can be used with a huge range of different harnesses to fit your dog. Fastening by means of Velcro closures, the Core Cooler means that your dog can maintain their full range of movement and run around to their heart's desire while still keeping their cool, and will allow your dog to work or walk for longer thanks to the cooling effects of the Core Cooler.

Compact, easy to carry or store and quick to put on your dog, the Core Cooler is the ideal solution for dogs that need a little extra help in the hot weather, but without the need for a full jacket.
Introducing the newest addition to the Hurtta collection, the Cooling Wrap is designed to cover areas of your dog's body that need it the most like the chest and its large muscles and blood vessels, and the lungs too. Simply soak the dog vest in water or a nearby lake and pop onto your pup. The cooling sensation starts to take effect as the water evaporates, it then spreads throughout their body via your dog's natural circulation which means you don't need to worry about covering up or soaking the rest of their body.
This design is fully adjustable, and comfortable when wet, even when its able to absorb three times its weight in moisture. The textured fabric on the outside directs airflow throughout the vest to encourage evaporation for a quick relief from warm weather temperatures. It even has bright 3m reflectors so you can stay seen on darker evenings on the beach!