Posted by Amy Wellcoat / Ruffwear on Apr 07, 2022
Trail time with our dogs gives us a chance to adopt their curiosity and sense of adventure.
They stop to investigate a wildflower we'd walk right past, or splash through a stream we'd normally hike around. Their presence alone elevates every little moment, and they challenge us to see more and do more.
Dogs are happy to tag along on any hike. With a bit of preparation the right gear, and a bit of that eagerness to explore comes so naturally to our furry trail buddies, you'll be en route to a good time hiking together.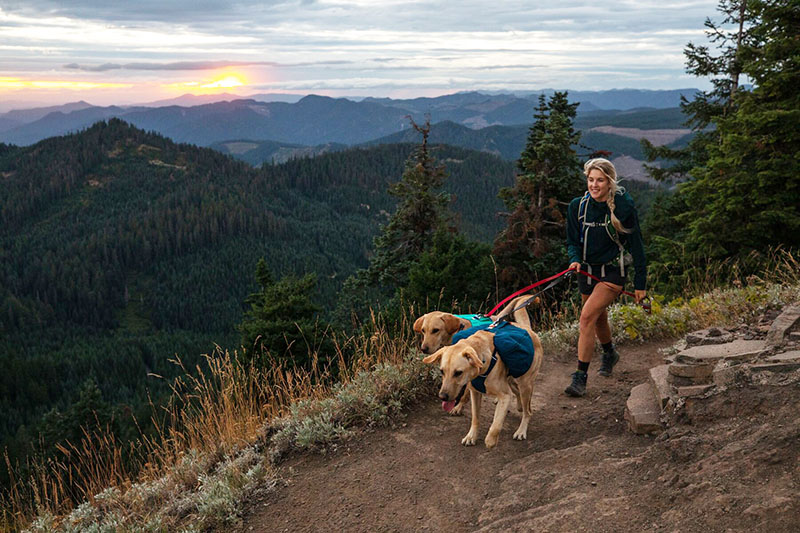 1. HAVE A PLAN
Before you hit the trail, have a plan: know which trailhead you'll be leaving from and the specific rules about dogs on the trail you'll be exploring. Different trails have different sets of rules - many allow dogs, but a few don't, and some have seasonal leash regulations.
If you're unsure about the rules for your destination, you can find them online or by calling the agency that manages the public lands you're planning to visit.
GEAR TIPS
Even on off-leash friendly trails, always carry a leash. The Quick Draw™ Leash attaches to and wraps around the collar when not in use, giving your dog off-leash freedom with access to a short leash if needed.
The Haul Bag™ is useful for organising and transporting your dog's gear - a great way to avoid showing up to the trailhead and realising you've left the leash or pick-up bags at home (we've all done it!)
2. PREP AND PACK
On the trail, our dogs' basic needs are similar to our own: food, water, and gear fit for the elements and terrain ahead. First aid supplies are a must as well.
Before heading out, check weather and temperature range so your pup can be as well prepared as you are. Pack extra water if it will be hot, layers if it will be wet or chilly, and, of course, trail snacks.
GEAR TIPS
Grip Trex™ Boots offer paw protection on rocky and rough terrain - or even hot and sandy trails.
Combined with the lightweight materials and a streamlined design, the Approach™ backpack is comfortable and allows dogs to carry trail necessities on day hikes and light overnight adventures with their humans.
Much like you'd break in your boots and work up to hiking longer distances, it's a good idea to get your pup used to wearing a pack or boots well before you plan to use them on the trail. Know what your trail companion is capable of, and work your way up to longer mileage and wearing a pack. Dogs typically can carry up to 25% of their weight in a pack.
3. TRAIL MANNERS
Good recall, basic obedience, and manners like "leave it" will help keep your canine companion (and wildlife) safe. They'll also go a long way toward making friends with other users on the trail.
Know the etiquette for the trail you're hiking, and be mindful of other users on the trail. Trails that allow horses typically require hikers and mountain bikers to yield to to horse riders.
GEAR TIPS
Carrying treats in a Treat Trader™ (either wear around your waist or clipped to your day pack) is a great way to reward good behaviour.
The Crag™ Leash is an adjustable leash that you can extend for more room to roam or shorten when you want them closer to your side.
4. LEAVE NO TRACE
When playing and exploring in the outdoors, make sure to leave minimum impact to the environment and preserve a pristine experience for others. This includes picking up your dog's waste and disposing of it in a proper receptacle. Pack it in, pack it out!
Other dog-specific considerations include respecting wildlife by giving other animals and critters space (instead of chase) and being considerate of other users (through good manners and etiquette).
GEAR TIP
The Pack Out Bag™ is a convenient solution for carrying full pick-up bags hands-free. It comes with 15 Earth Rated bags, and you can wear it around your waist. Or, the belt clip can attach directly to your day pack.
5. EYES UP
Hiking a trail from a dog's perspective looks a little different from our own. All sorts of new smells to investigate, bush to run through, sticks to chew on.
Keep an eye on the things and places your dog is exploring. Most of the time you'll just get a kick out of the goofball they turn into on the trail. There will be times, though, where being aware means you can proactively steer them away from a precarious situation or from eating something they shouldn't.
After your hike (or periodically throughout longer hikes), check for ticks, burrs, or cuts your dog may have picked up on the trail. Finding and addressing these things early are important for avoiding any serious issues later on.
6. HAVE FUN
Hiking with your dog is an awesome way to discover new places together, but it might feel a little daunting if you've never done it before. Do your best to prepare ahead of time, but also be ready to be flexible should things change.
Beyond that, a little patience and sense of humour will help. You're making memories together and building your bond - and that's the best part!