Posted by Amy Wellcoat on Feb 17, 2021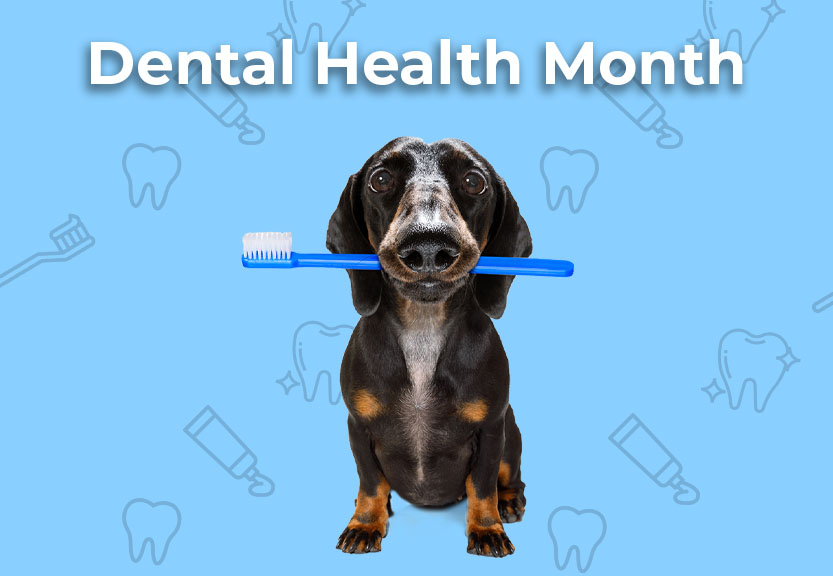 Did you know that February is Dental Health Month? Not just for humans, but animals too! So...should you clean your dog's teeth? Of course you should, because cleaning their teeth keeps their breath nice and fresh, and prevents expensive and sometimes risky operations to remove tartar build up. Tartar is formed when plaque is calcified, it can no longer just be removed with a toothbrush and will need the help of a vet and anaesthetic. 80% of dogs begin to show signs of oral disease by the age of 3, so it is necessary to understand the importance of dental hygiene for our pooches.
A few years ago the act of brushing our dog's teeth was rare, in some places it was almost unheard of, and tartar removal under sedation was a common procedure. Nowadays though our attention is regularly drawn to the oral hygiene of our pets.
Every self-respecting veterinary surgery sells canine toothpaste and most have a poster up in their reception to tell us how important clean doggy teeth are to our pets. If you have never considered the topic before then here are some reasons to get out the toothbrush.
Dogs suffer cavities.
Dogs can get tartar build up and dental disease.
Cleaning your dog's teeth can help to prevent abscesses in the mouth.
Excessive tartar build up can cause coughing and irritation in the dog's throat and chest.
Mouth bacteria from dental problems can travel into the body and affect the major organs of your dog.
Dogs use their mouths for so many things, eating, playing, exploring and tasting things around them on their adventures - whatever that may be. So it's really important that we remember to care for their dental hygiene. The first thing that will alert you to a problem in your dog's mouth will be reluctance to eat hard food. He may suddenly develop bad breath or you could find blood on his toys or chews.
There are many ways to help your dog's mouth stay clean and fresh. A fresh carrot a day has natural abrasive qualities. There are also many types of teeth cleaning chews and treats available that are full of natural ingredients and a healthy snack for your dog. Bones are still favoured by many dog owners, but it is important to be careful because some can get stuck in the digestive system.
Your dog's diet will determine how quick tartar builds up. Soft food will have little teeth cleaning effectiveness and even soaked kibble can take away the rough coating that freshens the mouth. This is often why small, food fussy dogs or those with only a soft diet, end up with necessary extractions and descaling operations.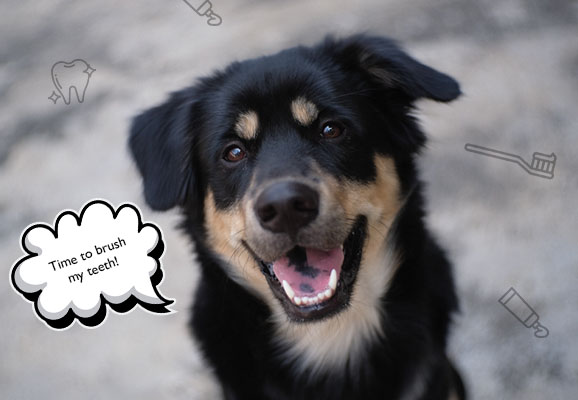 How To Clean Your Dog's Teeth
To begin a new oral hygiene routine for your dog the first thing to do is decide how he will accept the change. By doing this you can decide the best way to look after his teeth. Luckily a lot of dogs like the taste of canine specific toothpaste, it is often beef or chicken flavour which they will gladly accept.
Some toothpastes are enzymatic and can be squeezed into your dog's mouth or onto his food. If you can get it around his teeth though with a brush or finger brush then all the better.
Brushes range from little and slight rubber affairs that slip over your finger through to complicated, dual bristle, double ended marvels. Exactly how far your dog will allow you into his mouth, with a foreign object, will help you decide which to buy. If you have a puppy then it is a good idea to gently stroke around their cheeks and in his mouth every day for a while, even before his second teeth come through, so they can get used to the feeling of you prodding around.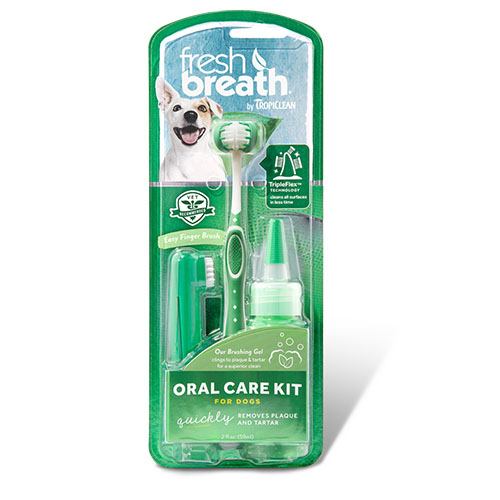 Have a look at our Fresh Breath Oral Care Kit by Tropiclean. It includes the TripleFlex™ Toothbrush, Finger Brush and Brushing Gel for Dogs. This is a great place to start if you're not sure which products will work best for you, the Brushing Gel is infused with green tea extract which fights against plaque and tartar. And the TripleFlex Toothbrush cleans 3x faster than other brushes thanks to its 360˚ bristles for a deep clean.

Tropiclean have their Fresh Breath range which is full of excellent products such as their Water Additives - great for dogs who don't like the scary toothbrush, just simply add to their water bowl for ultimate defence against tartar and plaque. The Oral Care Gel helps fight against gum disease, and helps remove plaque and tartar thanks to its powerful, natural ingredients. All you have to do is add 2 drops to each side of your dogs mouth daily and they'll soon have the freshest breath and brightest smile in the house! The Oral Care Foam is similar in the way it helps defend against oral disease, just apply directly to their teeth and gums daily.
Canine Cleaning Treats

There are many tasty treats, chews and snack that are ideal for cleaning those teeth. For example, Soopa have a great range of dental sticks and treats to choose from, featuring a variety of delicious flavours and of course designed to look after your dog's teeth. Containing important ingredients such as antioxidants, Vitamins and Fibre, all of which have supporting research that shows they are beneficial for dental health, help with bad breath and immune support.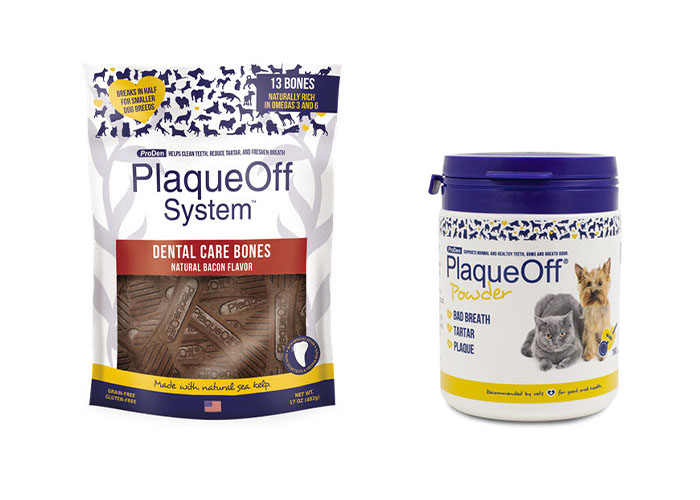 PlaqueOff have a fantastic range of products that are specifically designed to remove and prevent bad breath, tartar and plaque. Their Dental Care Bones are available in a variety of tasty flavours including Bacon, Turkey & Cranberry, Chicken & Pumpkin and Veggie Infusion - yum! The ProDen Powder is a dietary supplement that is added to your dogs wet or dry food once a day. Both of these products are made from sustainably harvested Sea Kelp and Seaweed which has been proven to significantly compliment dogs daily dental hygiene. Packed with important vitamins and minerals whilst being free from any nasty ingredients like artificial preservatives or gluten, these are another healthy option to keep those teeth sparkling!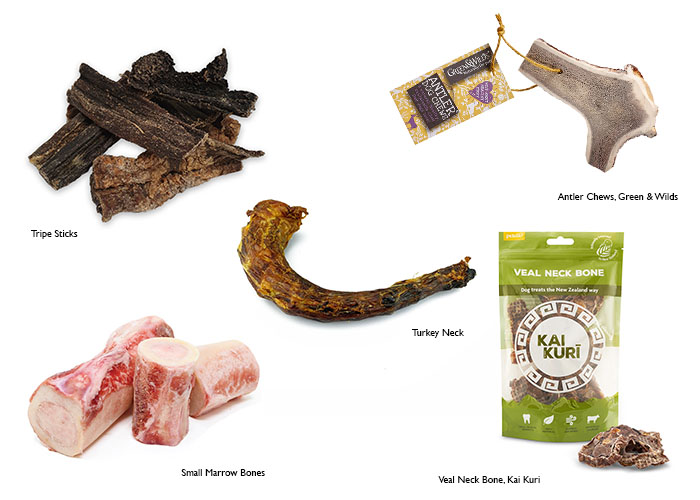 Many natural treats are great for dental health, thanks to their chewy texture and long lasting nature. Not only are they ideal for fresh breath and clean teeth, but natural treats are full of important ingredients like vitamins, protein, great for the immune system and digestive health. Check out some of our favourites, the Kai Kuri Veal Neck Bone not only improves oral health, but it's made from ethically sourced Veal and is air dried to preserve all of those healthy nutrients whilst getting rid any pathogens. We love the Small Marrow Bones, Tripe Sticks and Turkey Necks, and the Antler Chews by Green & Wilds, these will certainly keep your dog occupied for some time whilst also cleaning their teeth!
You can have a look through our huge range of natural treats here, and make sure to check out the rest of our dental care range, there's something for everyone!
The Reluctant Subject
If your dog really does not want his teeth cleaned there are some things you can do to attack that tartar. Try squeezing some toothpaste the length of a dental treat which he has to really chew on. Some manufacturers even supply fresh breath spray and special mouth rinses for our pets. These products are said to prevent tartar build up just by being in the vicinity of the dog's teeth.
Or you can gradually build him up to having his teeth brushed. Do this by starting a few seconds at a time and rewarding his acceptance. If you make the activity fun, positive, pressure free and rewarding he may just start to enjoy it.
Good luck!