Posted by Zena Conkey on Jul 15, 2021
When it comes to planning a holiday finding accommodation that welcomes the family dog is essential for many dog owners. Fortunately there are now an increasing numbers of holiday providers who offer dog friendly options and for many booking a stay in a dog friendly holiday cottage is the ideal choice. Especially now we are all planning a staycation after the year we've had. So how do you go about finding a suitable holiday cottage and what are the must have items to make your home from home as comfortable as possible for the canine holiday maker?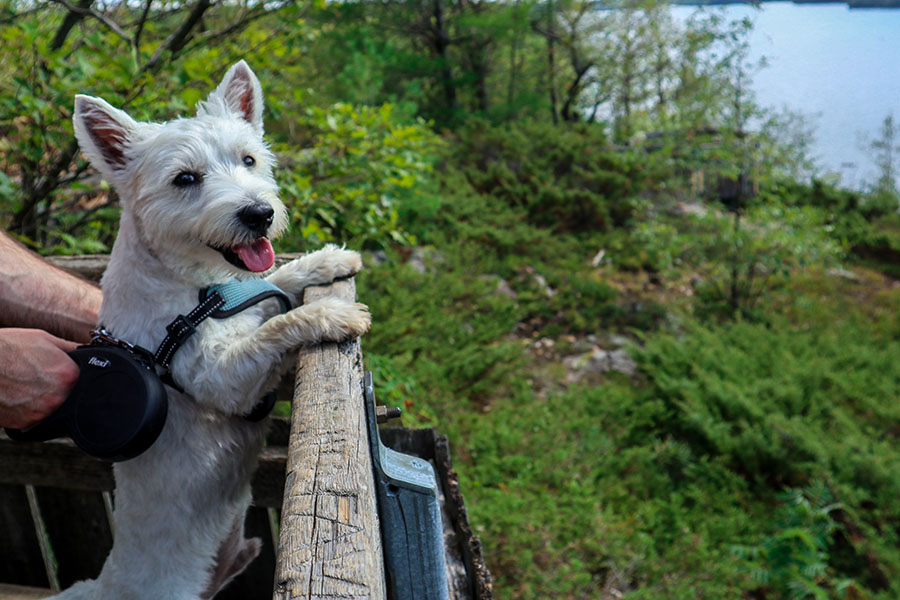 Dogs Trust Welcome Cottages. When it comes to finding a dog friendly holiday cottage personal recommendation can be a great option. However if you don't have this or fancy trying somewhere new, the Dogs Trust Welcome Cottages partnership have a wide selection of dog friendly holiday cottages to choose from. Not only can they help you find a great holiday 10% of every booking is donated to the Dogs Trust to help them support and rehome dogs across the country.
Highlands Pad by Ruffwear. Having a comfy place to sleep is important for all of us when we head off on holiday and your dog is no exception to this, although sometimes taking their bed from home is just not practical. This waterproof and durable design by Ruffwear is ideal for throwing in the car and heading off for a few days away, once you arrive the bed provides a cosy place to settle at the end of a day of exploring. You can even bring it along on your adventures, giving your dog somewhere dry and comfy to
Madea Drying Coat by Rukka. If you are anything like us part of being on holiday is getting out and exploring new places which can mean getting wet or muddy, sometimes both! The MAdea drying coat by Rukka comes in very handy on these occasions as the absorbent towel is great for cleaning up the wettest of dogs before heading back to the holiday cottage. It's also great for keeping cosy in the evening if you're enjoying a little bonfire or bbq!
Kibble Kaddie by Ruffwear . When heading off on holiday with your dog making sure you have enough food for them but without having to cart a sack of kibble with you can be problematic when it comes to packing. The Kibble Kaddie holds up to 10kgs of dried food and with the magnetic seal which doubles as a handy pouring chute it saves the problem of ripped carrier bags spilling food in the car or as you are unpacking in your cottage.
Tux Toy by West Paw Design. Being on holiday isn't all about being busy and sometimes you just want to stay in your home from home relaxing and taking some time out from the pressure of everyday life. On days like these or even if you are heading out for a meal with your dog the Tux Toy from West Paw Design is a fun, durable toy which you can fill with treats to keep your dog amused while you enjoy some quiet time. It can even float in water too for some extra fun by the lakes or lochs!
Quencher Bowl by Ruffwear. When out and about it's important to remember to keep your pooch hydrated as well as yourself, especially in the summer heat. Whether you're chilling in the garden, relaxing in the cottage, or out exploring the landscapes, the Quencher bowl by Ruffwear is a great little pack-away bowl to bring along on your holiday. It even comes in a range of sizes and can be used for dog food too.
Scullcap and Valerian Tablets by Dorwest. While going on holiday is something we all look forward being away from home in a strange place can be stressful for some dogs. Scullcap and Valerian tablets by Dorwest are a natural way to help dogs relax without affecting their normal behaviour or making them drowsy so they can still take part in whatever is planned for the day. This fully veterinary licenced herbal medicine can be used short term in the first few days of a holiday to help reduce anxiety or as needed on singular occasions for example if a dog suffers from travel issues.
These are just a few of our favourite holiday essentials and in addition we always pack first aid kits (one for dogs and one for humans), a treat bag, spare leads and collars, the list could go on and on.
So if you are heading off to a dog friendly holiday cottage for a few days away, enjoy and we'd love to see your holiday photos.