Posted by Zena Conkey on Apr 29, 2021
Things To Consider When Taking Your Dog on Holiday
The Great British Summer is finally right around the corner. With those couple of sunny days in April already giving us a taste of what's to come, dog owners can look forward to walks on the beach, strolls in the countryside and perhaps even a camping trip or two now that we can get back out in the wilderness again. Now is the perfect time to embrace the warmer weather, by putting a date in the diary to book some time off and plan a holiday.
As a valued member of the family, you may have considered taking your dog away on holiday before, but are yet to take the plunge and involve your pooch in your family getaway. A 2016 study showed that 87% of pet owners who don't take their pets on holiday take the time to enquire about their wellbeing while they are away. If your pet being away from the family is a cause for concern, why not consider taking them with you on your next escape? With kennel bills costing almost as much the weekend away itself, taking your dog on holiday really does present a win-win situation.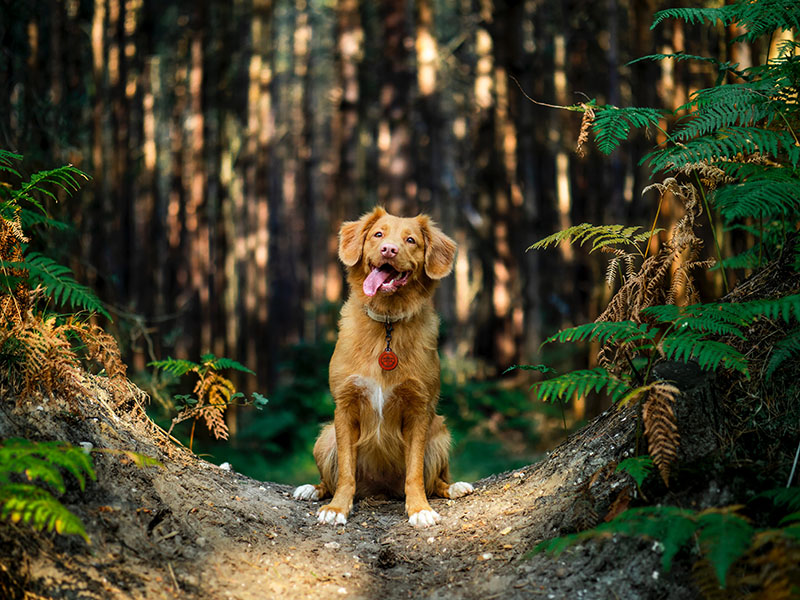 Planning and Packing
Planning ahead is key to making your trip as enjoyable as possible for your four legged friend and your family. You'll know better than anyone that dogs have multiple needs just like humans, and if they are not met this could cause behavioural issues which could derail the whole trip.
The packing and planning process takes time, but you'll be thankful that you planned ahead later. Here are a few things to consider in advance:
1. Check the weather forecast for the duration of your trip, so that you can plan appropriate activities to keep the dog entertained for when a day out exploring isn't an option.
2. Find out what will be available at your dog friendly accommodation. Some places will offer a dog bed, feeding bowls and mats and torches for late night walking. Checking this in advance will save you unnecessary prep and packing.
3. Pack extra dog waste bags, ID tags, an extra collar and lead just in case, as well as towels and cleaning shampoos for the adventurous dogs who may want a quick dip in the sea or lake!
4. Remember any medication your dog might need, as well as a grooming brush if you have a long-haired breed who enjoys rolling around fields and wooded areas. Watch out for ticks here too, check out our blog post on ticks for some tips and preventative measures.
5. Finally, pack enough food to keep your dog happy and well fed whilst away. Many dogs suffer from upset stomachs when their food is suddenly changed, so it's important to take enough food for the whole trip to avoid any unnecessary upset.
Safety and Security
At home you know exactly what your dog is able to get up to and how to ensure they stay safe and comfortable. But, when you both travel outside of your familiar territory you open yourselves up to whole new surroundings, complete with new smells and places to explore. Dog owners will know that pooches find it hard to resist checking out something new or giving chase to another dog or animal unless told otherwise.
Before you head off, it's important to ensure you are confident that your dog will come back to your calls when let them off of the lead. If you're unsure try to keep them on the lead in large and open areas. You could look into an extendable lead before your holiday to ensure they can still run and enjoy themselves without the worry that they might get lost. However, this is a great option for smaller breeds that don't tend to pull too much on the lead. Additionally, it's always a good idea to have a photo of your dog on you at all times in case they do decide to take off at some point, so that you're able to share the photos with the local community to help you relocate them.
The Great British Summer is unfortunately unpredictable, so make sure you know how to react whatever the weather and the situation your dog might be faced with. If it is a hot day, pack a water bottle with you and a light water bowl for necessary pit stops to avoid dehydration and heat stroke. Many dogs are afraid of thunder and lightning, so try to plan ahead and check for storms to avoid being caught out in one.
When exploring the country side, be prepared for any bites or stings. Pack Benadryl and any additional dog friendly treatment to help them feel more comfortable if the incident arises by reducing any irritation. If a dog is bitten it's important to get them to the vets as soon as possible, so look up local vets in advance and familiarise yourself with where they are. Try and keep an eye on your dog so that if they are bitten you can tell the vet what caused the bite or sting.
Finally, be cautious of busy roads, other animals and cliff edges. Look up the local routes in advance so you know where any areas to take extra caution are.
Optimising your Break Away
The May bank holidays come and go fleetingly. Beforehand, the idea of four days off seems like bliss, but often we look back and feel like we didn't make the most out of the time allocated.
Make sure to do your homework prior to your vacation and consider a variety of locations for your trip. It's important to consider the needs of your dog as well as your own. Once you have found a few options that would suit both your family and your dog, research what is going on in the local area. If your dog finds being around lots of people overwhelming, it might be worth trying to find somewhere a little quieter with less going on, whereas if your dog enjoys lively environments, it may be worth finding dog friendly events and activities. Local dog shows and woodland walks are all fun things that everyone can get involved in. Make sure you check which events are dog friendly in advance to avoid anyone being left behind.
Do some research to find out which cafes and restaurants allow dogs too, so that you're not left walking around with empty tummies trying to find somewhere suitable.
A trip away with your dog is always so joyful. Many find the addition of the dog adds an extra element to the holiday, and eliminates any worry about how the dog is doing in the kennel. Dogs love exploring new locations, and seeing their happiness brings more happiness to the whole family. With a little forward planning, you can enjoy a wonderful bank holiday away with all the family, including your beloved pooch.