Posted by Amy Wellcoat on Feb 11, 2021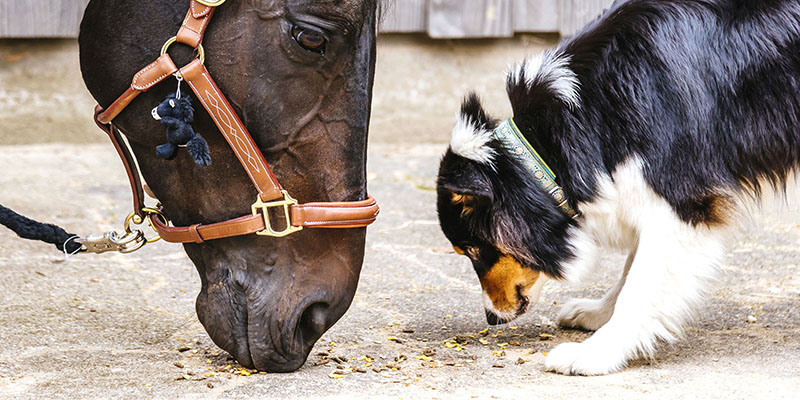 If your dog has had surgery recently, attained an injury or suffers from chronic pain, K-Laser Therapy could significantly improve their condition. This therapy is a treatment that stimulates the body's natural healing course through a process called photobiomodulation. The treatment is known to have a number of health benefits, including speeding up the healing time of wounds, reducing pain, decreasing swelling and increasing circulation.
Laser therapy has been used in human and animal medicine for decades, but most recently the development in technology for laser miniaturisation has enabled the treatment to be used on a much wider range of patients, including our pets!
What Can K-Laser Therapy Do For My Dog?
This practice can help the healing process of a number of conditions, including:
Joint Pain & Osteoarthritis
Edema & Congestion
Tendonitis
Chronic Pain
Limping / Lameness
Fractures, Sprains, Strains
Trauma / Puncture wounds
Dermatitis
Neck & Back Pain
Hip Dysplasia
Burns
Infected / Chronic wounds
Rehabilitation
Recovery From Surgery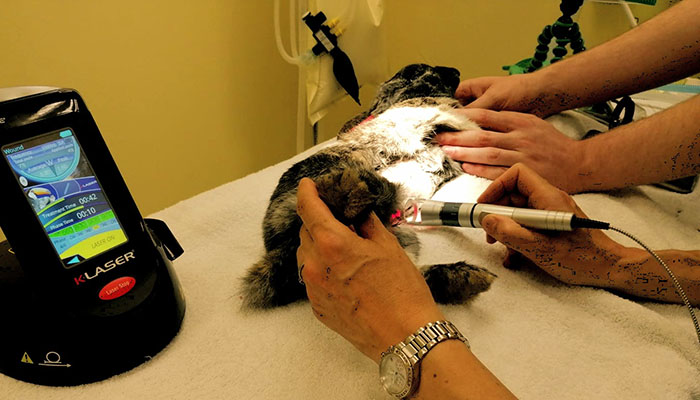 How Does Class IV K-Laser Therapy Work?
Through a combination of different wavelengths, power and frequency of laser light, the process can help with various conditions listed above. K-Laser Cube Devices are the most powerful class of laser used for therapeutic use. More power means that higher levels of light can be delivered more quickly, speeding up the overall process.
Animal Laser Therapy, Fife
Fiona Melville is fully trained and qualified in laser therapy and runs her own practice called Animal Laser Therapy in Fife, Scotland. After having worked within the veterinary industry for 7 years, she decided to embark on her own venture of helping animals through the use of K-Laser Therapy. She has a great deal of experience of working with many animals, including dogs and horses. Fiona is the only independent K-Laser Therapist in Scotland, and is based very close to the K9active HQ in Fife.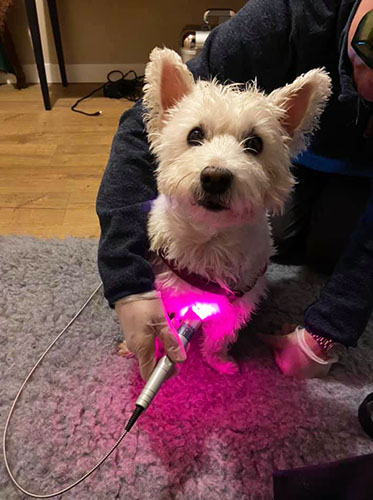 What Happens In a Treatment Session?
A probe is held over the area which is being treated, as you can see in the photo above, Rosie is receiving some therapy for Westie lung and a torn cruciate ligament. The process is completely harmless and painless, as you can see, little Rosie is totally comfortable sitting there getting all the attention! Most animals sense a mild, soothing warmth across the treated area. Many of Fiona's furry patients become so relaxed with the laser treatment that they end up falling asleep - it sounds like a lovely little pamper session for our best friends!
If areas of pain or inflammation are being treated, especially in arthritic cases, they may feel a little stiff the day after the first session but that will soon disappear - just like going to the gym, you feel a little tender after doing a workout but are soon all back to normal. This is due to the stimulation of the muscles, circulation and oxygenation of the tissues.
You may start to see improvements in the condition or wound after the very first visit, although with Class IV Laser Therapy treatment, you are more likely to get the best results after attending a couple sessions over the course of a few weeks. Don't be worried if you don't see immediate changes, but you should see marked improvements after around 6 sessions.
Chronic conditions require 6 sessions over 3 weeks, advice will be given on how many more you may need afterwards. Some monthly booster sessions may be needed, this can help greatly with ongoing pain for things like arthritis. Fiona treats wounds differently to chronic conditions, they require more frequent sessions until they are resolved.

For example, here is one of Fiona's most recent patients with a wound. This poor pup had a nasty abscess on their leg which needed to heal from the inside out, as well as allowing new skin to grow. Have a look at the healing process over the course of two weeks. They had K-Laser Treatment for the first 7 days, these pictures start after a couple of treatments once the raw wound had closed a little. You can see the vast improvement on this puppy's leg over a couple of days, and thanks to the Laser Treatment it will barely leave a scar behind! Thankfully he is all back to normal now and running around having the time of his life like all dogs should be!
So if your pup is having any health issues, chronic pain or has had surgery and you are looking into speeding up their recovery, have a look into this amazing treatment. If you are in Scotland, make sure to check out Animal Laser Therapy in Fife and all the amazing things Fiona can help with. It's amazing to have found someone so close to us who specialises in this field!
You can contact Fiona on 07974762974
Email: fionamelville@animallasertherapy.com
Facebook: https://www.facebook.com/Animallasertherapy/
All images are from Animal Laser Therapy