Posted by Amy Wellcoat on Jul 02, 2021
Here at K9active we are very lucky to be able to bring our canine companions into work with us during the day. However in their 2019 PDSA Animal Welfare (PAW) report the PDSA discovered that around 1.9 million dogs are left alone for 5 or more hours every day, that's 19% of UK dogs (pre-lockdown). Further to that they discovered that 40% (750,000 dogs) of dogs are alone for all of this time, without another animal or even someone checking on them.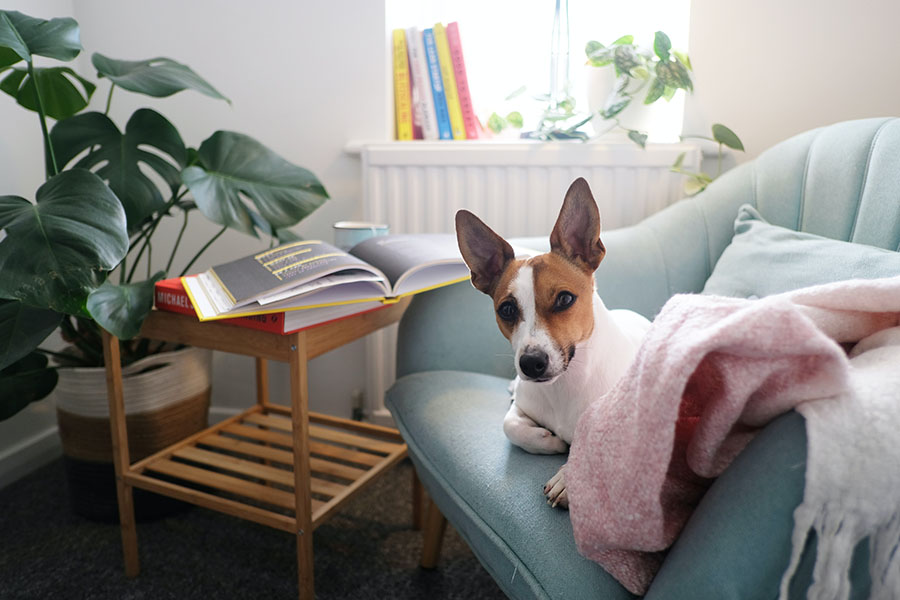 Things are different now that we were all basically stuck at home for a whole year, and I'm sure we can speak for all dogs when we say they will have enjoyed your full attention and constant companionship more than you could ever know! But now that things are getting back to normal and we find ourselves slowly going back to work and maybe leaving our dogs at home longer than usual, we need to remember this change in circumstance will have a huge effect on our furry friends. The recommended maximum is 4 hours.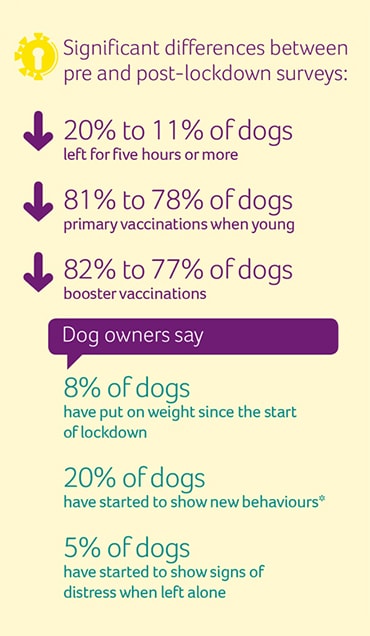 Image from PDSA Report.
Unsurprisingly, the amount of dogs being left for 5 hours or more decreased to 11% during 2020 because everyone was at home, but 5% are now showing signs of distress when left alone. So what are the alternatives to leaving your dog at home while you are at work or away from home during the day?
Doggy Day care
In many areas of the country you will find a selection of doggy day care facilities where you can drop your dog off in the morning as you leave for the day then collect again when you return. Think of doggy day care as a crèche for your dog!
Doggy day care centres should have separate areas for dogs to relax, play and eat with some offering your dog the opportunity to socialise with other dogs if appropriate. Before leaving your dog at day care, make sure to do your research and check that the facility is fully licensed.
According to PDSA Animal Welfare, 14% of owners use a 'doggie day care' facility at least annually, with 400,000 dogs (4%) using one at least once a week. Our dog Skye goes to a local doggy day care every Friday so she can run about wild for a few hours with her pals, the staff are amazing and treat each dog as their own! You might also find that even a reputable dog walker will make a huge difference to your dog's time at home by breaking up their day with a long walk.
Day Boarding
Day boarding is a service offered by many boarding kennels with some offering special rates especially out of holiday season. As a day boarder your dog should receive regular walks, free running, one-to-one contact and have all their dietary needs met but you need to consider if your dog is going to be happy to be in a kennel environment. Some dogs can find kennels very stressful especially at busy times of year.
With both day care centres and boarding kennels it is advisable to visit any establishment you are considering using at various points of the day, ideally without an appointment, so you can see how well the dogs are supervised and if they seem contented to be there. You should also be prepared to give evidence of your dog's vaccination status if you are using and your dog may have to have a behavioural assessment before attending.
Friends and Family
Do you have a trusted family member who would be happy to have your dog to stay while you are at work or out for the day? I know several family dogs who love going to stay with "Gran" while their owners are otherwise engaged. If you work part-time you may be able to come to an arrangement with a friend who works opposite days to have each other's dogs to visit while each other is at work. There are even some online services who can match your dog with a suitable person in your area who would be willing to look after your dog while you have to be away.
Take your dog to work
Some workplaces are open to the suggestion of a well behaved dog joining the team at work and if this is something that is open to you always put the needs of your dog first. Ask yourself if they would be happy settling all day while you go about your role, it may be that your dog would prefer to be elsewhere doing dog things rather having to lying under a desk all day. I do appreciate that I am in a very fortunate position to be able to bring my dogs into our workplace and that not all work environments would be so welcoming or suitable for a dog to join the team on a regular basis.
Whatever you decide is best for your dog while you are at work remember that dogs are social animals who create strong bonds with their family and those they consider to be in their social group. While some dogs learn to cope when left for an extended period others will become bored, insecure and anxious which can lead to behavioural issues, even if there is another dog or animal present.
That all said for most people it is necessary to occasionally leave their dog at home for a period and it is something I would recommend you train your puppy or dog to be comfortable with from an early age. In an ideal world you should aim to leave your dog no longer than a few hours at a time and always make sure they have plenty of fresh drinking water along with suitable chews and toys to occupy them while you are gone.
You can read the whole 2020 report here.