Posted by Ruffwear on May 31, 2023
Ruffwear ambassador Laura Patton and her dogs Star and Colt are big fans of hiking, biking, and skiing through endless terrain of their Pacific Northwest home. Here are Laura's top 5 tips for getting started when mountain biking with your dog.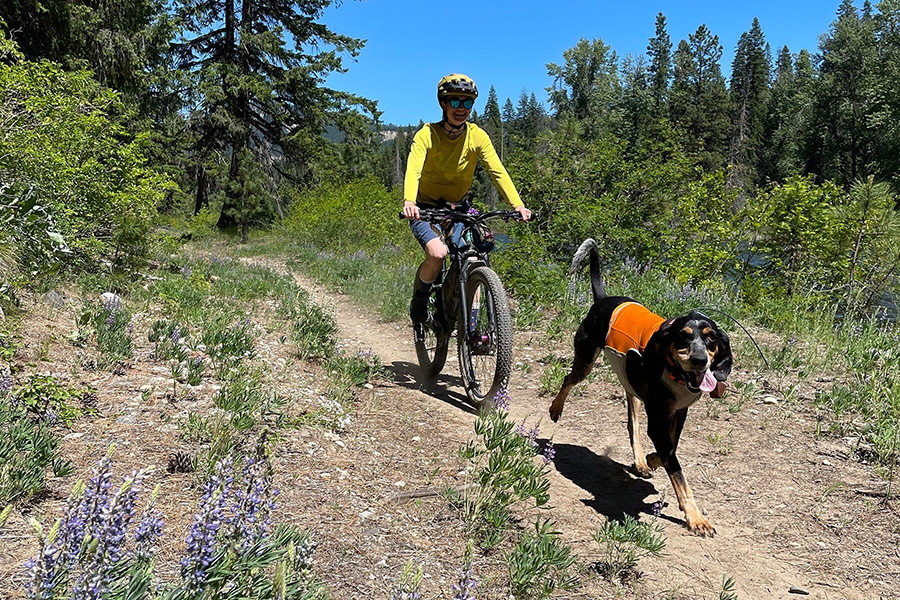 It's officially summer, which means it's biking season! With the recent explosion in popularity of mountain biking, there are more people enjoying the trails than ever, so it's important to prepare beforehand if you're planning on bringing your pup with you on your next ride. Here are some tips to consider:
MAKE SURE YOU HAVE A RELIABLE RECALL
As with any activity where your dog will be off leash, make sure that your recall is solid before heading out on a bike together. Once you're on two wheels, everything speeds up, so you'll need to be even more proactive about calling your dog back to you when you encounter other trail users.
The faster our dog Colt gets going, the more excited he gets, so we practice our recall at different levels at Colt's stimulation and speed to make sure we nail it when it matters.
DECIDE ON POSITIONING AND PRACTICE AT LOW SPEED
Do you want your dog trotting in front of you so you can see them? Behind you so that you're leading the way? Or to your side if you're on a wider trail or road?
Decide what will work best for you and practice at low speed so your dog gets used to be around your bike. When we ride mellow singletrack, we generally let Colt run ahead since he's quick and is otherwise right on our back tire, but we're always prepared to come to a fast stop in case he stops to smell something in the trail.
CONSIDER YOUR TERRAIN CHOICE AND SPEED
Adventuring with my first two dogs throughout their entire lifespan taught me the importance of planning for the long-haul. It may be fun to tear downhill at full speed with your dog bounding behind you, but high-speed, high-impact activities take a huge toll on your dog's joints. In order to protect our younger dog Colt's joints, we only take him riding on cross-country style singletrak or forest road double track, and we keep the mileage to only a fraction of what he is capable of doing. We want to make sure he's healthy, happy, and adventuring into his old age.
DON'T FORGET HYDRATION AND COOLING GEAR
Biking is a much faster paced activity than walking, hiking, or running with your dog, so they may tire more quickly or get warmer. Pack more water than normal and consider using cooling gear to help regulate their body temperature. Ruffwear have numerous cooling gear to choose from, but the best for this type of activity is Swamp Cooler™ Zip Vest which replaces the Jet Stream™ Cooling Vest.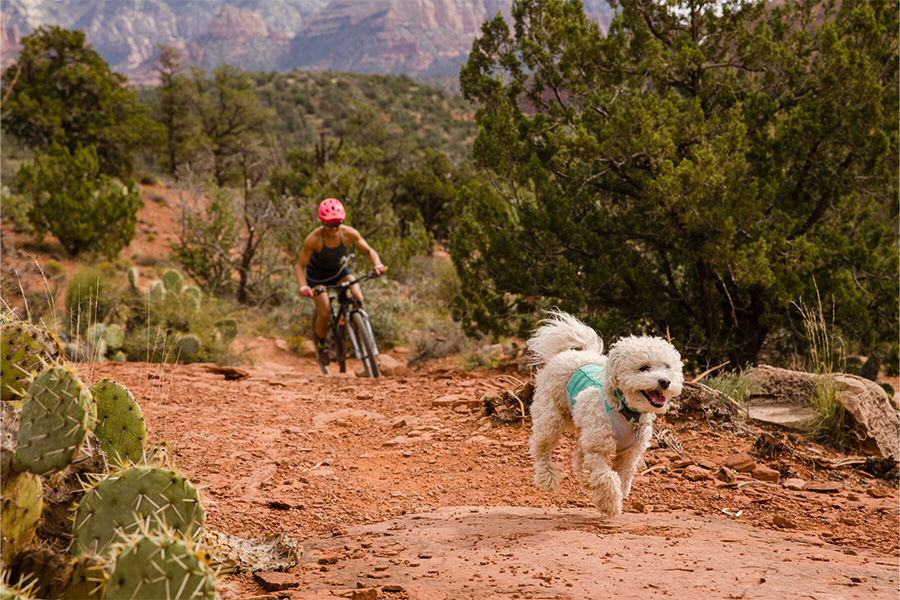 LOOK INTO BIKEJORING OR BIKE TOURING FOR OTHER FORMS OF BIKING WITH YOUR DOG
If you can't have your dog off leash, bikejoring is a great way to enjoy biking together. It's helpful to practice commands for stop, go, and leave it before being tethered to your best buddy while you're on a bike!
Bike touring over longer distances is also a wonderful way to see the world with your pup. Make sure you set attainable daily mileage goals and have a trailer to tow your dog when they need a break. Biking with Colt and Star is the activity I have enjoyed the most with them!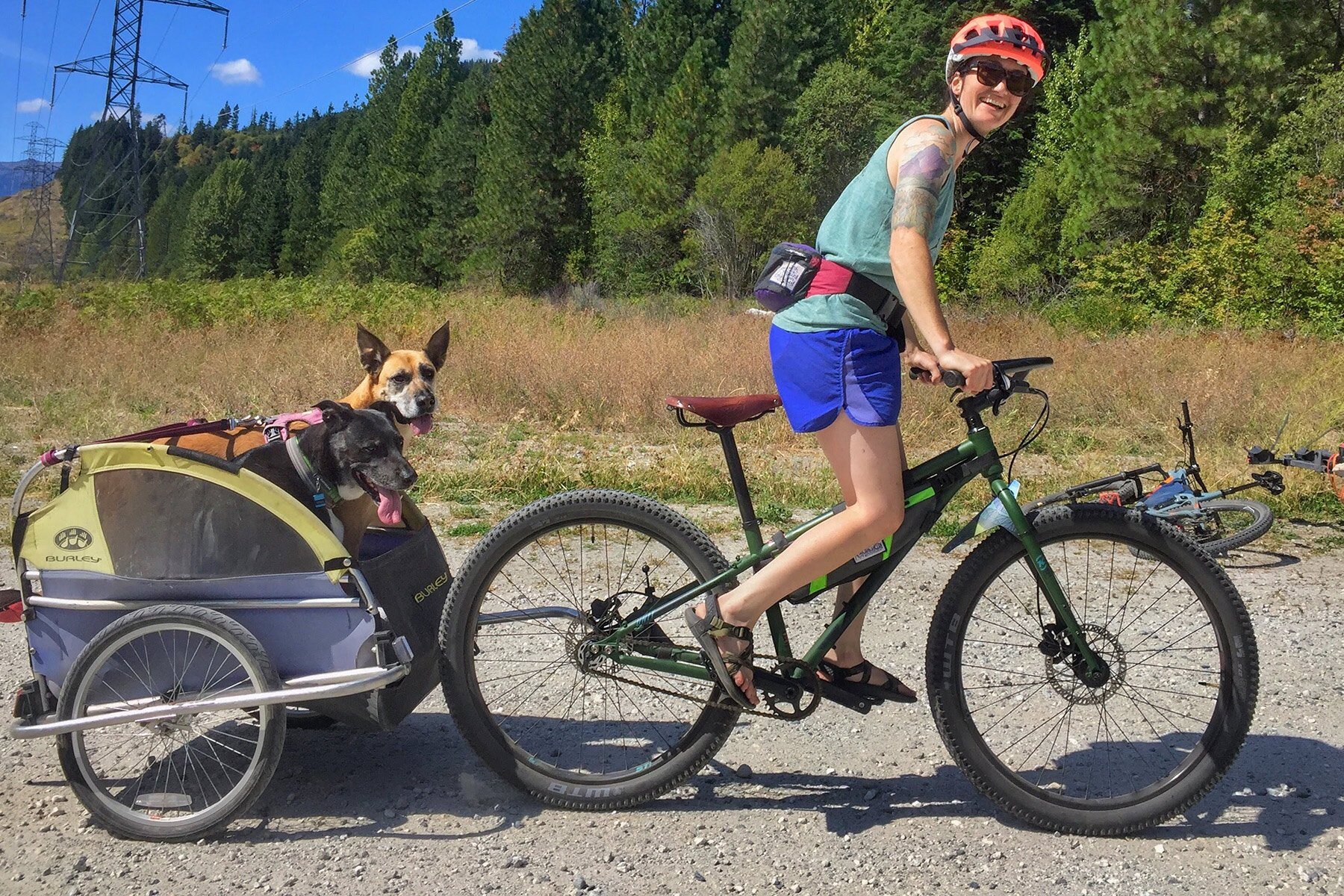 Getting back to the car after a ride or a multi-night tour brings with it a feeling of accomplishment and a wonderful sense of partnership with my buddies. I hope you'll get the chance to give it a try.