Kaizer – Weimaraner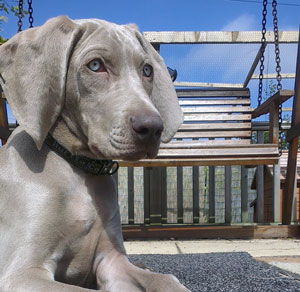 12/01/2012 - 17/04/2019
Our beloved Kiaser passed away on Wednesday April 17th 2019 from complications with Bloat.

Kiaser was very laid back guy and nothing fazed him, he was always praised by the Blood Donner Team at VetsNow on his calmness while giving blood, and it is good to know that his blood saved many other dogs lives. He is sadly missed by everyone especially his sister Skye who took awhile to get over his passing.

Our darling Kiaser who was such a good boy will be waiting for us over the rainbow bridge and we will meet again for lots of cuddles together and watch him chasing rabbits even thought he never caught any. We miss him dearly.