Amber - Belgian Shepard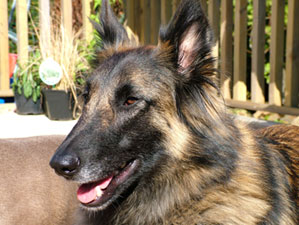 Amber is our chief product tester, and is quite happy to try any new products whether they be a new toy to run after or a new line in sporty clothing.
She loves the water and will quite happily swim out to retrieve a toy, and puts the boys to shame.
Her favourite toys are the Hovercraft and Turn-Up in fact if she can run after it she'll love it. She is even partial to a game of tug with Blue and his toys.
Being a Belgian Shepherd Amber doesn't have a problem with the cold weather, but with the kind of climate we have here she can get very wet and dirty. (Boss: I think that's why my favourite product is the Hurtta Overalls).
Amber the life saver
Amber came to donating blood late in life, so unfortunately, at the age of nine she can no longer give blood. But for the last couple of years she has donated her blood regularly, and in doing so has helped many sick dogs and cats in the aid to recovery. She took to giving blood like a duck to water and certainly wasn't phased by the shaving or the actual blood donation and laid on the table without a problem. She certainly loved all the attention she received from all the nurses at the blood bank and of course the treats.
If you would like your dog to be a lifesaver too then register at the Pet Blood Bank.
Although Amber has now retired as a blood donor she is still very active in her post as Chief product tester for K9Active.