Description & Size guide
SUPREME PRO – The World's Most Absorbent Dog Drying Robe - Save 20% Add to basket for sale price

SICCARO Supreme Pro drying robe is a premium quality dog dryer made from a dual layer combination of viscose and bamboo fabric that removes 80-90% of the water on a wet dog within 15 minutes. The outside bamboo towelling has antibacterial properties, meaning that the Supreme Pro tends to reduce 'wet dog' smell after use. This feature is great for making sure that your home and car don't adopt the classic "wet dog" pong.
It is easy to put on by unzipping the neck zipper and then simply slide it over the head. It has an adjustable length strap, that fastens around the belly using the signature patented SICCAR ClickLock that can be used with one hand or with gloves on. It's also helpful if you're mobility impaired or have arthritis because there is little pressure needed to open and close it.
The coat has great coverage of the chest, stomach, upper front legs which get really wet after wallowing in puddles to get them warm and dry quickly. There are elastic straps that fasten around the back legs so that if they run or roll around, they still get their hind quarters nice and dry. The neck is extra long to cover and dry the head and it's great for drying fluffy ears too. As mentioned it features a zip opening, meaning that it can alternatively be folded back if your dog prefers to let their ears 'air dry'.
It is ideal after wet walks, bath time or swimming activities because there is little effort required to put it on and your dog will be dry between 10-20 minutes depending on the length of their fur. Whilst they dry the dog is free to run, roll around and play without it coming off.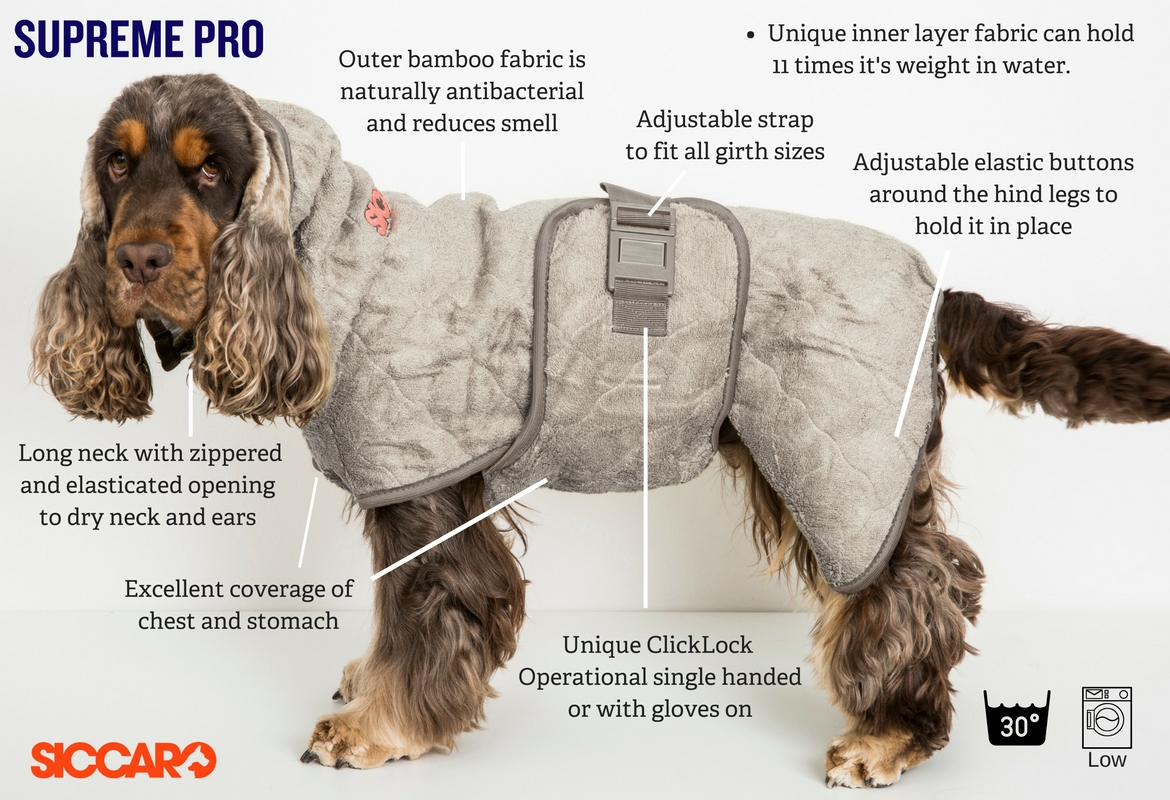 Another feature is that in hot temperatures, if you soak the Supreme Pro in cool water and wring out the excess, it has been used successfully as a cooling coat, which can be really handy in the summer months. It's best not to leave it on too long and always ensure that the coat is damp when using it as a dog cooling coat to ensure your dog doesn't overheat.

Supreme Pro dog robe comes in 7 different sizes to fit every dog.
Features:
Quick to put on and dries 80-90% of moisture within 15 mins
Natural antibacterial properties of bamboo help reduce "wet dog" smell in the car and home
Protection from water damage in the car, office or home
A simple solution after wet outdoor activities
Easy to use for the while family
Machine washable at 30 degrees and you can tumble dry it on low
Made in EU – high quality materials
No more smelly towels to wash and dry!
How To Measure:
The size of the WetDog Supreme Pro depends of the length measured from the base of the tail to the base of the neck when the head is raised.
Is your dog right between 2 sizes? Get the larger one as it will shrink 3-5% when washed.
| SIZE | Dog's Back Length |
| --- | --- |
| X-Small | 20-27cm |
| Small | 27-37cm |
| Medium | 37-47cm |
| Large | 47-57cm |
| X-Large | 57-65cm |
| 2X-Large | 65-76cm |
| 3X-Large | 76-85cm |
Delivery & Returns
UK DELIVERY:
FREE STANDARD DELIVERY on orders over £49
Delivery is free via Royal Mail Tracked service and will take 3-5 working days* to arrive with you.
BASIC DELIVERY on orders under £25
Delivery is £3.35 via Royal Mail 48 service and will take 3-7 working days* to arrive with you.
STANDARD DELIVERY on orders up to £48.99
Delivery is £4.20 via Royal Mail Tracked 48 service and will take 3-5 working days* to arrive with you.
PREMIUM DELIVERY
Delivery is £6.30 via Royal Mail Tracked 24 service and will take 1-3 working days* to arrive with you.
SPECIAL DELIVERY (Guaranteed Next Working Day)
Delivery is £8.99 via Royal Mail Special Delivery. This is a guaranteed next working day service and orders must be placed before 3pm. orders placed on a Friday will be delivered the following Monday. Orders placed after 3pm on Friday will be delivered the following Tuesday. This service may not be available in all location i.e. BFPO or Highlands & Islands.
*Delivery times are estimated from shipment and subject to stock availability. Our cut off time for orders is 3pm. Working Days are Monday to Friday and don't include UK public holidays.
FAIR POSTAGE POLICY:
At K9active.co.uk we operate a fair postage policy and we have no additional charges for deliveries to BFPO addresses or the Highlands & Islands.
DELIVERY TO EU:
Delivery to EU from £10.99 (Royal Mail Tracked And/Or Signed)
Free Delivery to EU on orders over £150
International Delivery (Outside EU):
International Delivery £11.99 (Royal Mail Tracked And/Or Signed)
Free International Delivery on orders over £200
RETURNS:
We operate a 60 day returns policy at K9active. Items can be returned within 60 days of the shipment date.
For orders placed in the UK we provide free returns potage for exchange items. UK Only orders requesting a refund you can use our returns label, the cost of which £3.50 (Royal Mail Tracked return service) will be deducted from your refund. Alternatively you can use a courier of your choice.
LARGE OVER-SIZE PRODUCTS
Delivery for some products mainly Large items and Dog Beds will incur shipping charges in addition to our regular postage rates above. In most cases these products will be sent directly from the manufacturers warehouse on a next day courier. In all cases that there will be additional costs for a product to be shipped you will be advised on the product page and you can see the exact cost for your order in the cart using the shipping estimator.
For information about returns, please click here to view our Returns Policy.