Description & Size guide
NEW 2017 Design!
Why not allow your outdoor hound to carry his own supplies on long or multi day hikes? This dog backpack from Ruffwear is the ultimate canine back pack. Without the removable saddlebags it is a complete Ruffwear Webmaster Harness and yet with the bags it is so much more. So why buy two separate dog equipment items when you can buy the Ruffwear Palisades Pack?
Made from high quality long lasting materials the saddlebags contain two 1l collapsible water bottles. The bags also have a compression capacity which ensures a secure and even load distribution. The webmaster harness base for the packs has a five point adjustment system to ensure a snug and non-slip comfortable fit. You can even remove the bags for breaks and water crossing without the hassle of removing the entire harness.
The harness, incidentally, has a handle which sits on the dogs back for easy lifting and manoeuvrability. Along with the aluminium V ring for leash attachment the in-design touches are all there to make the hikers life easier. With easy access pockets, high reflective strips, coated zippers and the external gear loops Ruffwear have thought of everything.
So whether you are heading into the hills for a day or a week you are not going to find a more useful dog backpack package to bring along for the trip. The Ruffwear Palisades Pack has everything an outdoor dog could need.
It's recommended that your dog carry no more than 25 - 30% of their body weight in their dog pack. If your dog is new to dog packs, start with a light load and work up to a heavier load as your dog gets accustomed to wearing the pack. in-between sizes:Choose the smaller pack for a lighter load and less bulk. Please do not use saddlebag capacity as your only sizing consideration; use the girth fit for best results.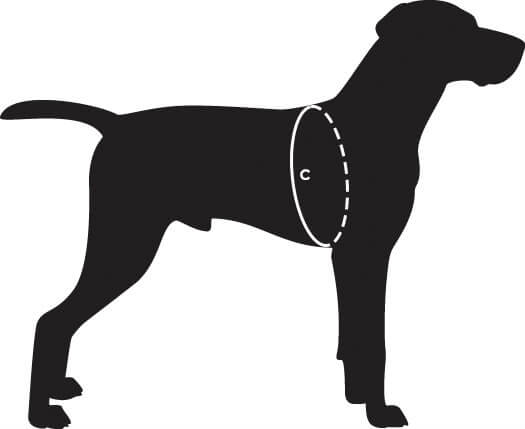 How To Measure:
Measure around the widest part of your dog's rib cage.
SIZE
Chest (Girth)
Capacity
Weight
Small
56-69cm
(22-27")
12.5L (762"3)
0.8kg (1.75lb)
Medium
69-81cm
(27-32")
17.5L (1,068"3)
0.84kg (1.85lb)
Large / X-Large
81-107cm
(32-42")
24L (1465"3)
0.98kg (2.15lb)