The all new Razzle Dazzle Harness by Hurtta has been designed specifically with puppies in mind. The neckline, chest and front strap will adjust by up to 30%, a fully flexible design allowing the harness to grow with your dog - so you don't need to worry about your pup outgrowing this stylish accessory any time soon. With a snug 'Y' fit, the padded material provides extra comfort and durability, perfect for use on your daily walks and off-the-grid adventures.
Features
Eye catching design and colours
Fully adjustable neckline, front strap and chest for growing dogs
100% nylon quick snap buckles
Corrosion resistant metal attachments
100% recycled material padding & polyester woven belt straps
70% recycled material knit
Removable fun reflector
Featuring an integrated handle for extra control around busy areas and allowing you to help your dog over any obstacles. The two front snap buckles secure from underneath the chest, meaning the harness can be easily fitted without having to lift your dog's legs at all. Attach your leash with confidence to the durable stainless steel ring, and stay seen in low light conditions with the fun, removable reflector. The strong form of this harness has been made with 100% recycled material padding, recycled polyester woven belt straps, and 70% recycled material knit. Available in three eye catching, colourful patterns which can be matched with the Razzle Dazzle Collar and Leash for a co-ordinated, stylish look.
The perfect first harness for all those growing pups who are eager to start exploring on their adventures!
SIZE GUIDE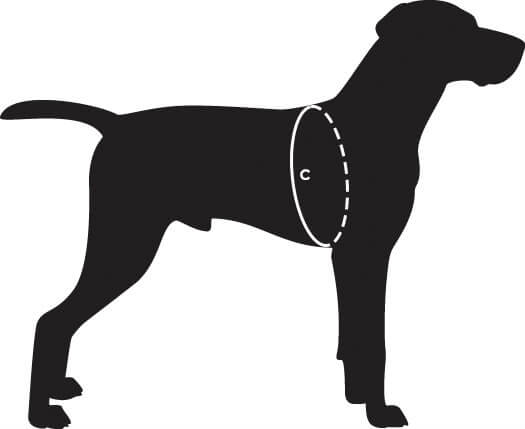 How To Measure:
Measure around the widest part of your dog's rib cage.
| SIZE | Dogs Neckline | Dogs Chest (Girth) |
| --- | --- | --- |
| 35-45cm | 20-35cm (8-14") | 33-45cm (13-18") |
| 45-55cm | 25-45cm (10-18") | 43-55cm (17-22") |
| 55-65cm | 30-50cm (12-20") | 53-65cm (21-26") |
| 65-80cm | 35-65cm (14-26") | 63-80cm (25-32") |
| 80-100cm | 40-70cm (16-28") | 78-100cm (31-39") |